Moringa Production & Applications Workshop 2015 Guarantees Focused Learning for Moringa Practioners
Industry: Farming
3rd Global Moringa Meet Workshop Guarantees Focused Learning for Moringa Practitioners; Shape Moringa, KEY Planting & Processing Practices ensuring Sustainable Moringa
Jaipur, India (PRUnderground) September 2nd, 2015
The 3rd Global Moringa Meet; Moringa Production to Applications Workshop to be held on 21-22 November in Jaipur, INDIA guarantees focus on essential practices in Moringa planting, harvesting and processing. The workshop will redirect Moringa Cultivation Activity towards the greater returns, as participants will be able to compare Best Practices in Planting, Harvesting & Processing.
The Global Moringa Meet 2015  is the 3rd critical workshops to be held in India aimed at helping Moringa farmers and project developers around the world to understand the Moringa crop and add value to their Moringa Business Activity. The workshop will focus on the practical considerations of cultivation, management and business potential of Moringa from the perspective of Moringa producer, processer , practioner and Moringa Business developer. The earlier Moringa workshops has enjoyed tremendous success and have positioned Moringa as one of the most viable sources of food and fuel.
The 3rd Global Moringa Meet  will be led by world class Moringa Expert and scientists, who have extensive practical experience in the development of Moringa .Over the two days of the Moringa Production to Applications workshop, Course Leaders will discuss 9 Essential practices that will enhance existing Moringa cropping systems, and take the Moringa Olefeira crop to an ideal model for industrial cultivation.
These Key Practices Include:
Selections of Elites of Moringa for higher productivity per acre
Proper techniques for nurturing saplings in Nursery
Healthy Practices to Reduce Incidence of Diseases
Maximising Returns by effective implementation of Intercropping
Minimizing the use of Fertilizers & Irrigation
Best Practices in Silviculture to increase productivity and ease harvest
Cutting back on Losses during Seed Harvest, Storage & Oil Extraction
Value Addition to Moringa Projects with use of by products.
Proper Moringa leaf growing, harvesting and Processing techniques
Scientists and experts at Moringa India has over 20 years of extensive expertise and  varied practical experience in the cultivation of Moringa in a variety of soil types.
While highlighting the Main theme of Global Moringa Meet; Mr. DP Maharshi President Moringa India said "We strongly believe that Moringa, cultivated the right way, can improve the efficiency and production in the Bio food, Biopharma and Biodiesel Industry, and improve the lives of the poor in across Asia, Africa & South America".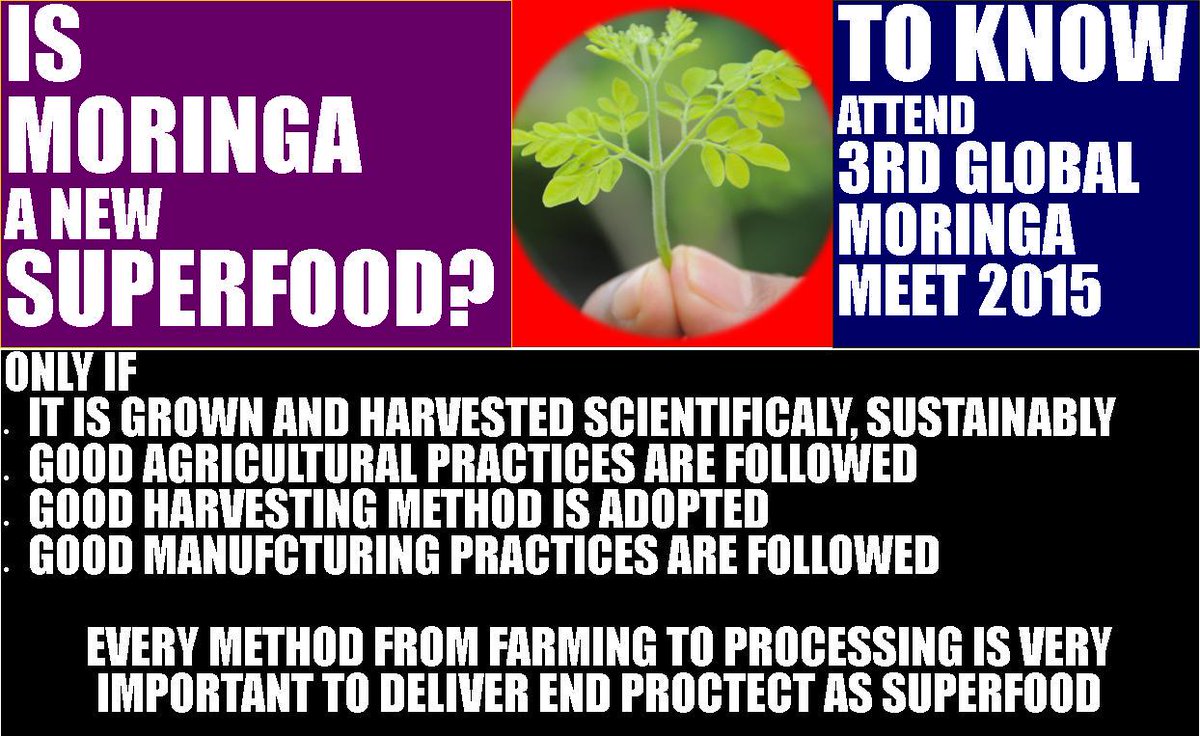 According to Dp. Maharshi, "Moringa shows great promise as a tool to help to eliminate some of the most severe problems in the developing world—malnutrition, deforestation, impure water and poverty. The tree does best in the dry regions where these problems are worst."
We, drawn by the theme "Feeding and Fuelling the Planet and the People" of Moringa India Meet 2015 , have come to realise that the links between people, the planet, and food need to be at the centre of our considerations, as they are the critical foundation of the sustainability of the earth and of humanity alike. Climate change, agricultural productivity, water management, dietary habits, urbanisation, and population growth. The causes and consequences of these critical issues for our planet will ultimately depend on management of food systems in socioeconomic and environmental frameworks, where Moringa may play an important role with Sustainable Agriculture
Coexistence Of Hunger and Obesity: Today, for every person suffering from under nutrition, two are obese or overweight (over nutrition): 805 million people suffer from under nutrition globally, while over 2.1 billion peoples are obese or overweight. The inclusion of Moringa in our food and health system may curb  both the critical problem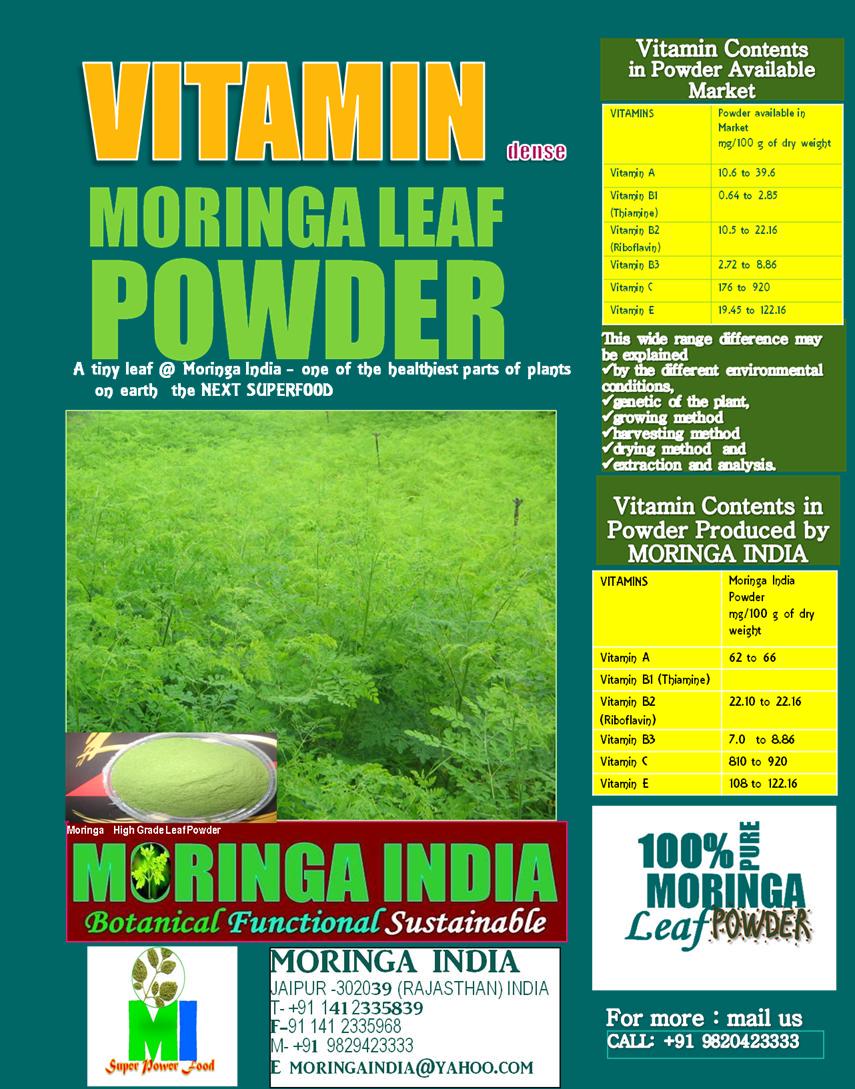 Moringa is a wonderful natural option that meets all the nutritional requirements of your body. The leaves of this miracle tree are brimming with antioxidants, vitamins, minerals and several essential nutrients. When you incorporate Moringa as part of your diet, your body's nutrition is almost close to complete, which diminishes unhealthy cravings and untimely hunger pangs. And that is not all. The vitamin B complex in Moringa helps your body convert food into energy more efficiently, decreasing the chances of food being converted into fat. This energy will help you stay more active.
Workshop participants will do more than just learn at the Moringa Production & Application workshop. In fact, workshop Participants will also be able to see, touch and feel the Moringa.
The second day of Global Moringa Meet 2015 will be devoted to the field-cum R & D centre trip where Moringa growing methods will be demonstrated and discussed. There will also be a live demonstration of Moringa oil and biodiesel making a question and answer session with research staff and Scientists.
Upon completion of the Meet, participants will receive a Certificate of Completion, awarded to serve as evidence of their Personal & Professional Commitment to their Moringa projects!
Those seeking to add value to their Moringa Cultivation Activity need to visit http://jatrophaworld.org/global_moringa_meet_81.html ; to find out more about the Moringa Meet 2015  and how to register for this International workshop on Moringa.
There are definitely some exciting developments occurring in the Moringa sector. The 3rd Global Moringa Meet India will place them under the proverbial spotlight with input from the key Moringa scientists.
Registration is open, ; Register for Moringa Meet- 21-22 Nov 2015, Jaipur, India Today! Don't delay, as there are only limited seats.
DP MAHARSHI, Moringa India
President
Advanced Biofuel Center
http://jatrophaworld.org/global_moringa_meet_81.html
About Advanced Biofuel Center
Advanced Biofuel Center (ABC) conducts advanced multi-feedstock research in the industry's non-food energy farming crop improvement programme and addresses the complete value chain. As a producer of proprietary seeds, ABC is in the most attractive segment of the biodiesel value chain — upstream from the capital intensive refining and conversion of biodiesel.
ABC's goal is to triple dedicated biodiesel crop yields within 10 years, increase the oil content to 48% and, in combination with other crops, target an oil yield that is 1500 gallon per hectare. Researchers also hope to increase the quality of the oils and other products produced—while minimizing inputs including pesticides and fertilizers.
At ABC, the dedicated biodiesel crop curcas plants' biology and genetic profile have been subjected to intense scrutiny, as molecular and genetic scientists collaborate with agronomists to breed and develop cultivars suitable for large scale fuel farming. Traditional breeding, inter-species hybridisation, genetic modification, and advanced cloning techniques are all being applied to produce new commercial cultivars.
Enhanced cultivar and seeds
After 11 years of continuous research and experiments in cultivating and breeding dedicated biodiesel crop curcas and other biofuel crops, ABC has developed a systematic breeding and cultivar development strategy. Newly bred cultivars are extensively tested in multi-location trials and true to type seeds are being produced using the organization's improved seed product line. Improved seeds result in greater yield, uniformity and vigour while significantly reducing plantation costs for growers. JCLMax3, MOMAX, DI03SAP etc improved varieties have been tested and developed for a range of climatic and soil conditions.
ABC's dedicated biodiesel crop agronomy knowledge platform focuses on 'plantation technologies' and has run an agronomy research programme alongside the breeding programme that looks into all agronomy issues.ABC further share and distribute its knowledge and expertise through its knowledge arm Biodiesel Business Academy
ABC scientists are continuously working on enhanced genetics, agronomics and horticulture sciences to drive new varieties, more knowledge around the plant's nutritional requirements and more science-based processes for the care and custody of the plant.
Balancing resources to create a sustainable long-term solution without harming the environment is the challenge. The focus must remain on balancing the three major areas—genetics, agronomics and horticulture practices—so the plant will grow with optimal productivity.
We are confident that scientific advancements can demonstrate, preserve, and enhance biodiesel\\\\'s ability to help meet the food, feed, fiber, and energy needs of the future.
We have a state-of-the-symbolization base that is generally outfitted with cutting-edge innovation based apparatus and world class conveniences. We have isolated our office into numerous divisions to guarantee that greatest conceivable operational proficiency is accomplished.
ABOUT MORINGA INDIA
Moinga India is making huge efforts, experiments, research to harness the harnessing the "superfood" powers of Moringa oleifera, a drought-resistant tree native to North India and widely used throughout the topics for in solving this global problem. Moringa shows great promise as a tool to help overcome some of the most severe problems in the developing world—malnutrition, deforestation, impure water and poverty. The tree does best in the dry regions where these problems are worst. Green leafy vegetables and fruits supply much needed essential micro-nutrients like beta-carotene [vitamin A], vitamin C, folic acid, and also calcium and potassium. Moringa leaves in particular are a rich, inexpensive source of micro-nutrients. Although few people have ever heard of it today, Mission Moringa India is to establish the Moringa to become one of the world's most valuable plants, at least in humanitarian terms Moringa India has been formed to identify the factors limiting the adoption and use of the Moringa Tree for Agricultural Development for Producing Biodiesel and to explore the important role Moringa play in the lives of rural people and the global economy deliberating advancement of existing and future agricultural development projects. It's experience, expertise, and views about Moringa and its use for agriculture development for the purposes of reducing hunger and poverty and formulate strategies for developing moringa failsafe farms and also helps new growers to have holistic information on moringa crop with academic research activities in Agronomy, Horticulture, and Biology, industrial practices in biofuels , Marketing and Financial aspects of Moringa commercialization. It will be a great pleasure to share the up-to-date advances in both fundamental researches and engineering practices, and to project the areas where we may contribute to to harness the full potential of moringa for betterment of people and planet Moringa India is one of the largest growers of Moringa Oleifera and maintains Moringa farms in scientific manner. With its extensive experiences in the field, enhanced technology, plant science & professional knowledge, effective consulting service and business intelligence, Moringa India has developed a set of tools/service to develop Moringa business from soil to superfood, from farming to fuel