Mobile Food Blog Debuts Internet TV Show
Industry: Food and Drink, Video
Stitches 'n Dishes, a pioneer in mobile foods wrapped up its culinary food truck road tour of San Francisco, CA with 11 reviews and debuted its internet TV show on October 25, 2011.
San Francisco, CA (PRUnderground) November 9th, 2011
A free service, Stitches 'n Dishes is California's only network of vendors, venues and their fans, providing news, schedules, reviews, high-quality photography, video and media coverage on its website.
On October 25, 2011, Co-Founders, Christopher Ford and Andrew Nicora, and Editor in Chief, Rodney Washington, concluded a week-long culinary road tour in one of the best culinary destinations in the country, if not the world – San Francisco.
The tour finale included reviews of four San Francisco gourmet food trucks, and marked the debut episode of SND TV – an internet TV show featuring reviews and interviews in the mobile food industry. In the debut episode, filmed and directed by Nicora, Ford and Washington hosted a candid review segment of four food trucks at Off the Grid at McCoppin Hub in San Francisco.
"Rodney and I have a great chemistry in front of the camera," said Ford. "We had a great time dining at some superb gourmet food trucks on a beautiful afternoon. Three of them hit the ball out of the park, but there was one foul ball. They can't all be perfect all of the time."
Ford's reaction to one of the meals was the highlight of the episode. "We owe our viewers honest reviews about the foods we try. I couldn't sugar-coat it, but we'll give them another shot," he said.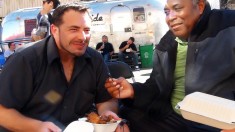 The episode, entitled, "Off the Grid – SF" debuted on October 25, 2011 and can be viewed on the Stitches 'n Dishes Youtube channel as well as on the blog website.
Ford and Nicora will air regular episodes of the show beginning this month. Nicora will continue directing the show. "I love being behind the camera and I love mobile foods," said Nicora. "Creating a TV show about mobile foods combines two of my passions, and I couldn't be happier about it."
Stitches 'n Dishes was hired by Ovations Food Services in July, 2011 to film and photograph the making of the World's Largest Commercially Available Hamburger. Ford and Nicora will release never-before-seen footage in one of the show's episodes in the coming weeks.
The Stitches 'n Dishes road tour continues through the year, visiting food festivals, county fairs, events, as well as special feature visits with fairground management, event managers, food trucks and food stands, caterers and bakers.
Ford and Nicora developed the "Stitch's Dish Rating" to award one to five plates for service, quality, price, menu selection, and creativity. Ford, Nicora and Stitches 'n Dishes Editor in Chief, Rodney Washington visit and review one-to-three food trucks, stands, caterers or bakers every week.
The full review and TV episode is published on the Stitches 'n Dishes blog site, where readers are not only tantalized by high-quality food photography and reviews, but they're also rewarded with prizes and discounts. Ford recently announced that Stitches 'n Dishes will give away an Apple iPad 2 WiFi tablet computer in a free drawing on December 31, 2011. Entry details can be found on the blog website.
About Stitches 'n Dishes:
Stitches 'n Dishes, the creation of Christopher Ford and Andrew Nicora, and inspired by "Stitch", an American Staff. Terrier mix / Bichon Frise, provides marketing, advertising and PR services to the mobile foods industry and it provides consumers with a single source for original articles, reviews, food photography, California fairs and events, discounts, contests and giveaways.
Stitches 'n Dishes is California's first provider of a platform that stitches a link between food lovers, entertainment venues and mobile food operators, and the first fully dedicated marketing, advertising and development resource available to food vendors in California.
Contact
Christopher Ford, Co-Founder
Stitches 'n Dishes
chris@stitchesndishes.com
916-612-9954
Rodney Washington
Stitches 'n Dishes
rodney@stitchesndishes.com
858-413-7526
About