Mind Commerce sees Opportunities for Hardware OEMs in Internet of Things (IoT)
Industry: Electronics
IoT Hardware OEM revenue to reach $453B globally through 2020 with a CAGR of 6.2%
New York, New York (PRUnderground) December 14th, 2015
Embedded system hardware will be a key component of the overall IoT services industry.  However, IoT is not just about services as products will also be positively impacted by automation and improved customer interactively. IoT enabled smart and connected products are anticipated to make a significant impact in a few key industries including consumer electronics, automobile, security and monitoring devices, healthcare, sports and fitness, transportation and cargo, oil and gas.
T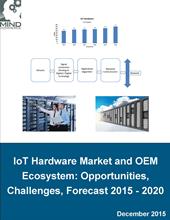 he IoT Hardware Market and OEM Ecosystem: Opportunities, Challenges, and Forecast 2015 – 2020
 report identifies opportunities for embedded hardware in IoT including Other Equipment Manufacturers (OEM) providers. Mind Commerce also evaluates the market opportunities and outlook for OEM channels and quantifies the markets and business for IoT hardware. The report includes detailed forecasts for 2015 to 2020.
Mind Commerce sees Internet enabled hardware, chips, edge devices and such other hardware used in IoT will constitute 30% market of total global Internet of Things related revenue generated in the year 2020. North America will lead the IoT hardware market with revenue of $161 billion in 2015 and it will grow to $213 billion through 2020 with a CAGR of 5.8%.
About Mind Commerce
Mind Commerce is your trusted source for research and strategic analysis focused on digital technologies and the telecommunications industry. Our reports provide key trends, projections, and in-depth analysis for infrastructure, platforms, devices, applications, services, emerging business models and opportunities.