Mind Commerce Reveals $168 Billion Telecom API Revenue Opportunity by 2020
Industry: Telecommunications
IoT API represents leading growth area with revenues reaching nearly $59 Billion USD
New York (PRUnderground) May 28th, 2015
Starting in 2017 there will be a major inflection point in growth of Telecom API transactions in terms of IoT and other non-human oriented transactions.  "As IoT begins to take form, and accelerates, we see an ever increasing role in terms of data access for a variety of IoT solutions, many of which will not require any human intervention whatsoever."
Additional areas of non-human interaction leveraging APIs include the emerging Wearable Technology ecosystem, which will rely heavily on telecom and enterprise data, and other autonomous data areas such as discovery and direct communications through LTE Direct (LTE-D).
Global Communication Service Providers (CSP) leverage Telecom APIs to offer Business-to-Business (B2B) services in a Data as a Service (DaaS) basis.
Enterprise companies across various industry verticals are also awakening to the availability and commercial value of CSP data including everything from network QoS for video service delivery to Subscriber Data Management (SDM) for advertising, profiling, and identity management.
CSPs offer data over Telecom APIs in a DaaS B2B2B and B2B2C model to data aggregators as well as direct to enterprise customers and Over-the-Top (OTT) players.
Latest Mind Commerce research uncovers key Telecom API monetization areas from the CSP's perspective including:
Direct API Revenue: Per-call Revenue (only)
Data Monetization: Revenue primarily from VAS Apps that rely upon Telecom APIs
Cost Savings: Savings to carriers that is directly attributable to use of Telecom APIs
Higher Usage: Increased data usage that is directly attributable to Telecom APIs and VAS Apps based on Telecom APIs
Churn Reduction: Reduction in customer losses directly attributable to Telecom APIs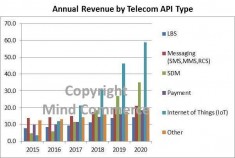 From the telecom vendor perspective, Mind Commerce identifies key Telecom API support areas such as IoT mediation.  Mediation for IoT includes the AAA function, consisting of end-user and/or business driven preferences and identity management.  Other important functions include security and privacy control.
Telecom Network API Marketplace: Strategy, Ecosystem, Players and Forecasts 2015 – 2020 report provides an in-depth assessment of the global Telecom Network API market, including business models, value chain analysis, network operator, aggregation and vendor strategies, and revenue forecasts for 2015 to 2020.
About Mind Commerce
Mind Commerce is your trusted source for research and strategic analysis focused on digital technologies and the telecommunications industry. Our reports provide key trends, projections, and in-depth analysis for infrastructure, platforms, devices, applications, services, emerging business models and opportunities.