Mind Commerce Provides Insights into Impact of Google's Project Fi
Industry: Telecommunications
Sees initiative potentially triggering up to 20% market share loss for AT&T, Verizon within 20 months of launch
Minneapolis, Minnesota (PRUnderground) May 5th, 2015
Google's April 22, 2015 announcement of its long-rumored mobile service, Project Fi, could trigger a 20% loss of subscribers for AT&T and Verizon.   According to market analyst and author Frank Ohrtman (author, Voice over 802.11, Artech House 2004), the technology at the center of that announcement, VoWiFi is already in wide use by cable and cellular providers alike. Despite its market clout, Google may be more market follower than leader in this case.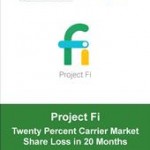 Mind Commerce research studies existing VoWiFi (also referred to as Wi-Fi Calling) operators such as Cablevision and Scratch Wireless. The technology enables VoIP calls on Wi-Fi networks and more importantly, enables a seamless migration from cellular to Wi-Fi networks. T-Mobile and Sprint have been using this technology to great effect to woo AT&T and Verizon subscribers with unlimited calling, texts and data.
Ohrtman sees cable providers potentially benefiting the most by deploying VoWiFi as it affords them a mobile play completing the long sought after native quadruple offering of voice, video, data and mobile services delivering high margins relative to reselling a cellular service. Ultimately, cable providers could accrue a total market domination of household telecommunications expenditures as those providers offer all services taking revenues from cellular providers AT&T and Verizon.
The Mind Commerce report, Project Fi: Twenty Percent Carrier Market Share Loss in 20 Months, evaluates the potential impact of Project Fi and makes predictions of the impact on the ecosystem including cable operators and mobile network operators.
About Mind Commerce
Mind Commerce is your trusted source for research and strategic analysis focused on digital technologies and the telecommunications industry. Our reports provide key trends, projections, and in-depth analysis for infrastructure, platforms, devices, applications, services, emerging business models and opportunities.