Metro 31 SmartCode Project Underway at Site of El Paso's Northgate Mall says Construction Reporter
Industry: Commerical Building
SmartCode developments are gaining ground across the nation with two underway in El Paso, Texas. SmartCode projects help developers address zoning issues with ease.
El Paso, Texas (PRUnderground) January 12th, 2015
El Paso, Texas has several SmartCode developments in the works, including a project at the old site of the Northgate Mall.  The $100 million, 30-acre project, referred to as Metro 31, will be built by Hunt Companies, and will boost the local construction industry.
SmartCode developments emphasize parks, access to public transit and neighborhood markets and stores.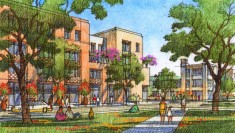 urrent plans for Metro 31 incorporate 324 apartment units, 80 affordable senior housing units, and almost 50 combined work and living units with open floor plans.  It will also include 100,000 square feet of commercial office, and about 135,000 square feet of retail space.
Montecillo Town Center was El Paso's first SmartCode development, launched last year.  The project is about 290 acres offering a mix of retail and residential development in a walkable space.
Metro 31 will be a more visible project as it's going into the site of El Paso's first modern shopping center, the Northgate Mall.
SmartCode projects are in planning or development in over a dozen states across the nation now.
SmartCode is gaining ground in part as it frees developers from usual restrictions of zoning methods and processes, proiding flexibility in uses.
About Construction Reporter
Founded in 1949 to provide New Mexico contractors with local project information, Construction Reporter has grown steadily in size and coverage area, today serving the commercial construction industry throughout the Southwest. Our mission is to help our customers succeed by delivering reliable, comprehensive, up-to-the-minute information on projects in planning and out for bid in New Mexico and the surrounding states. We are passionate about helping our member companies grow by delivering the most bidding opportunities, the most efficient bidding tools, and the most industry exposure of any news service in the region.