Mekongdeltadiscovery.com: Unique way of river life in Mekong Delta Vietnam
Industry: Travel
Located in the Southern of the S-shaped country, Mekong Delta Vietnam owns prominently natural and people features which are rarely seen in any places of the world.
Hanoi, Vietnam (PRUnderground) November 17th, 2015
Well known for the flooding or floating season, the nature is not only the strength but also the disadvantage of Mekong Delta River in Vietnam. With a system of fertile soil, a labyrinth network of rivers and canals, the region has a good condition for developing both agriculture and fishery industry which are also main living methods. Mekong Delta offers a wide range of Mekong Delta tours to experience the unique life on Mekong River.
Although the Mekong Delta Vietnam region has been suffered from many floods and other natural disasters each year, the residents keep seeking solutions to live in harmony with difficulties, to overcome and to take advantage of the heaven-bestowed favorable conditions to develop tourism, economics and society. Thanks to the highlight geographic features of Mekong Delta that is all surrounded with immense water, locals from generations to generations have to adjust to their unique way of life.
The Mekong Delta society has both common and distinct features in comparison with other places in Vietnam. People here often live in traditional villages; however, the community of the villages is less tightly compared to the northern part of Vietnam because they often move from one place to another and they are also parted by waterway region such as islands and isolated village weaving through canals.
Local residents in Mekong Delta have various ways of living. Most live in the flat lands near the river and the other part live on their floating home which are moving right on the Mekong River. As mentioned above, Mekong residents live on planting rice, nurturing luxuriant fruits orchards or other agricultural products and raising castles or making traditional handicraft; of which each province is famous for a particular product. For example, Ben Tre day tour is famous for its coconut candies and various products made from coconuts; Vinh Long becomes well-known with conical-leaf-hat making.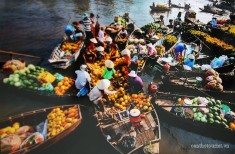 In particular, it will be a miss when talking about Mekong Delta without pointing out the traditional and unique way of Floating Lives. People accommodating on warm houseboats, moving their traditional boats at floating markets while bargaining and exchanging specialties right on those boats may be the common images when visitors come to the land. The hustling and bustling floating markets in Mekong Delta start from the early morning till late afternoon where people can trade a variety of products including agriculture, fishery and handicraft one.
Not only that, the spirit life is also the highlight way of living in Mekong Delta Vietnam. After hard-working days, local residents search for the artistic method to relax called the World Intangible Heritage Tai Tu Music, helping release anxiety and strain. Originally the musicians of Tai Tu music did not perform for their livelihoods but just to entertain themselves or others and that is why it is warmly called with another familiar name Amateur Music. It is not an exaggeration to say that Tai Tu music possesses both musical and magical inner superpower of captivating both Vietnamese and international tourists for the emotion and the soul of Southern Vietnamese people that are all included.
About Mekongdeltadiscovery.com: Officially launched by the leading tour operator Vietnam Discovery Travel, the website is considered as a trustworthy online channel with instructive information in along with enthusiastic supporting team that is helpful for visitors to come and discover this spectacular region Mekong Delta River Vietnam.
About Mekong Delta Discovery (Vietnam Discovery Travel)
Vietnam Discovery Travel takes pride to offer tourists exclusive ways to discover the Mekong delta region, one of the most-wanted destination in Vietnam