Maxoptra Winter Release
Industry: Technology
Maxoptra Field Service Management Software Winter Updates
London (PRUnderground) February 25th, 2016
Maxoptra Field Service Management Software is pleased to announce two minor yet very important product updates this winter.
1. Customer location update upon arrival: Drivers can now verify the addresses in your database. When a mobile worker arrives at a customer's premises, he just taps the "Arrived" button and the system confirms or updates the address. A dispatcher sees changes immediately. If a driver taps the "Arrived" button at a different address, the mobile app will notify him that the location is not stored in Maxoptra's database and will suggest updating the location according to his current position. Tapping the "Yes" button will verify the location; the "No" button will leave the address unchanged.
2. Same site jobs auto-planning: Maxoptra mobile workforce management software assigns engineers to jobs according to time windows, priorities, required skills and so on. It can now also assign jobs within the same area to one engineer.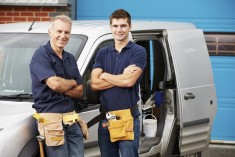 For example, there are two jobs in area A – one urgent and one not, and one urgent job in area B. As one engineer is unable to do all three jobs, the system allocates the two jobs from area A to one engineer and the job from area B to another engineer.
Are you interested in new features of Maxoptra workforce scheduling software? Contact us and we will show you how Maxoptra can help your business.
About Maxoptra
Maxoptra is a dynamic scheduling and route optimisation software platform designed to enable fast and efficient decision-making, in real-time, within ever-changing operational environments, particularly service management, supply chain, distribution and home delivery.
Easy to use, affordable and highly customisable, Maxoptra helps companies to do more business with the same resources at a lower operational cost and having an open API is an ideal complement to any telematics, WMS and CRM solution. As a subscription-based SaaS solution, Maxoptra is accessible 24/7 from any web browser worldwide, meaning every new release of functionality is immediately available to subscribers with no additional charge or upgrade cost.
Our scheduling solutions manage over 10,000 fleet vehicles worldwide every day. Customers include Gist, Avis Car Rental, Snap On, Serviceline, Walkers Transport, Champion Timber and many others.