Mapline Launches Enterprise Account for Limitless Mapping Experience
Industry: Technology
Since 2015 brings a lot of changes, Mapline launches a shift in mapping strategy in the form of new mapping plan - the Enterprise Account. It offers new mapping tools for
ILLINOIS (PRUnderground) February 11th, 2015
Since 2015 is all about new technologies, many companies are always on the lookout for business tools so they will not be left behind in competition. Because of this, Mapline, web map software  best known for its simplicity of use, launches new mapping tools that can be used by corporations. Its corporate account – The Enterprise Plan – allows the users to manage multiple users within a single account for their companies. Everyone in the team will be able to access the maps and datasets.
Enterprise Account – Paving the Way to Limitless Mapping Possibilities
While the other mapping subscriptions (Standard, Plus, and Pro Plans) have only 1 user per plan, the Enterprise Account allows the corporation to add more than 1 user. This is the most cost-effective way to monitor their data by different department heads or all team members. With this account, those who can access the account can add up to 15,000 locations within the span of 24 hours. They can save up to 250 maps, save up to 250 data sets and 15,000 maximum location limits per data set. What's even better part of the corporate account is that the data can be automatically be updated without them manually update their data sets. This will help save ample of time monitoring the data real-time.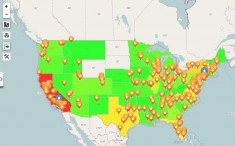 Here are other features of Enterprise Account:
Draw Pad – The Dark Horse of Data Analytics
Mapline users have found out that the use draw pad is a more effective visualization technique that goes far beyond the basic charts used in spreadsheets and dashboards. Draw lines from one point to another and identify their distance measurement.
The draw pad is packed with mapping tools empowers the users to:
Connecting to people who live within certain proximity of each other
Creating territorial map for sales teams
Defining the territories
Displaying competitors' locations
Identifying projected market area
Managing properties
Mapping out growth strategy
Optimizing growth potentials
Providing driving routes to customers to the nearest store location
Heatmap – The Key to Comprehensible "Big Picture"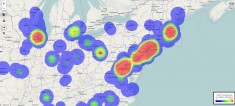 Heatmap plays a key role by making the users analytic components understandable. It provides a big picture of where the areas are more densed compared to other locations. It also offers different distinct map visualizations to tame the scale and complexity of the data so that it can be interpreted easily. Data can be heatmapped by location density, or sum or average of sales.
Mapline reaches a new milestone of heatmapping feature as it published its newest addition – the radar heat map. It is an intuitive way to represent geographical density according to color. It helps track sales and marketing program impact. Enterprise Account subscribers can visualize their geospatial element's size by radius.
For the complete mapping tools offered in Enterprise Account, visit Mapline today.
About Mapline
Mapline develops tools to transform analysis into a visual experience. It's mapping technology is one of the most powerful ways to visualize data from Excel spreadsheets to optimize logistics, enhance market planning, identify growth opportunities, or mitigate market risks. Mapline leads in data simplification and presentation and is committed to delivering the tools businesses need to outpace competition.