Liberty Brush Manufacturing selected as the "World's Greatest!…"
Industry: Manufacturing
Liberty Brush Manufacturing has been selected to be a part of the popular television series "World's Greatest!..."
Shakopee, MN (PRUnderground) January 20th, 2015
Liberty Brush Manufacturing has been selected to be a part of the popular television series "World's Greatest!…",. Liberty Brush Manufacturing will be one of the companies featured in Episode 209. The program will be airing on Monday, February 2, 2015 and Monday, February 16, 2015 at 6 am Eastern/ 5 am Central Time. For Mountain and Pacific viewers the times vary. On satellite (DirectTV Ch. 305, Dish Ch. 216) it airs at 4 am Mountain time and 3 am Pacific time. On cable it airs at 5 am Mountain Time and 6 am Pacific Time. Please check your local listings for "World's Greatest!…" or go to their website's television schedule page at http://worldsgreatesttv.com/tv_schedule to see upcoming episode information.  (Be sure to tape it.)
Additionally, the episode will be on the "episodes" page of www.worldsgreatesttv.com in the near future.
Liberty Brush Manufacturing has been manufacturing quality replacement bushes for over 15 years in Shakopee, MN. For more information about the company, please visit www.LibertyBrush.com
"Liberty Brush is known in the industry for its large selection of industrial brushes; cylindrical, rotary as well as custom brushes. While other companies are continuing to outsource their products to other countries, Liberty Brush continues to proudly have their products "made in the USA" in their state of the art facility in Shakopee, MN. We like that, and we think their story will be meaningful to our viewers" said Gordon Freeman, Executive Producer of the show.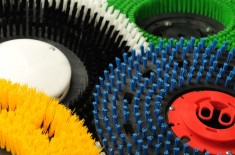 As part of the show, How2Media, has sent a film crew to spend time at the company's growing and expanding Shakopee, Minnesota facility, to find out what the story behind the story is with this great and growing company, and to show the "World's Greatest!…" viewers why Liberty Brush Manufacturing was selected as the best in their category, and therefore featured on the show.
"World's Greatest!…" is a thirty minute show dedicated to highlighting the world's greatest companies, products, places, and people. Each show is a fast paced tour around the world featuring behind the scenes footage, informative interviews, and exciting visuals.
How2Media is a 21st Century television Production Company. Their award winning programming can be seen on national cable channels and local network affiliates across the country. For more information on How2Media and their show lineup, please visit How2Media.tv
About Liberty Brush Manufacturing
Manufacturer of Superior Quality Sweeper and Scrubber Replacement brushes. Designed with \\"exact-fit\\" technology to fit all machines. The Independent Choice for Quality Brushes.