Kepler, a smart home defense against natural gas leaks just launched on Kickstarter
Industry: Home & Residential
Kepler is a gas detector designed to protect homes from gas leak with smart alert system, smartphone App and detachable function. It was recently launched on Kickstarter.
United States (PRUnderground) July 31st, 2014
Kepler is an intelligent gas detector that protects your home and family from dangerous gas leaks with new technology and powerful features. Packed with powerful sensors, Kepler constantly monitors gas and carbon monoxide levels, delivering life-saving warnings based on the level of danger. Kepler also features an early warning system, a portable design, and a gesture-controlled kitchen timer in a sleek design.
Kepler's alert system has two levels, yellow for unsafe gas level and red for critical warning. It alerts user with audible warnings, lights and smartphone notification.  Kepler user can install Android or IOS app to connect to the device and receive latest status and notification.
A common byproduct of gas leaks is Carbon Monoxide buildup. Kepler is designed to detect CO and gives user early warning about their presence. Kepler also has a timer function to prevent leaks from unattended stove.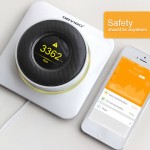 Kepler's backup battery allows it to work even during power outage. And with the battery, Kepler is also detachable and can be used to investigate gas leaks away from its base.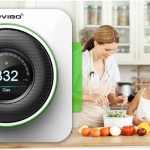 Kepler projected started in 2013 by a group of engineers and designers based in Shenzhen, China. The team has diverse background in hardware design and software development. The gas accident event occured on in East Harlem New York this past March added a sense of urgency to Kepler's development. It is at that time the team decide to launch Kepler on Kickstarter. Kepler team 's focus intensified to work on hardware, and software development and their plan is to begin shipment of Kepler in November 2014, with its public release scheduled for January 2015.
About Kepler
Your best home defense against gas leaks