Keiser University College of Golf & Sport Management Honors Spring Graduates
Industry: Education
Keiser University recognizes the academic achievements of 22 new graduating students. "A quality education is a fundamental cornerstone to a successful career and everyone at Keiser University is proud to recognize the achievements of our new graduates,"
PORT ST. LUCIE, FL (PRUnderground) May 12th, 2015
Keiser University College of Golf & Sport Management (COGSM) is  a professional golf school that is well-known for preparing students for successful careers in the golf industry, and the university recently honored nearly two dozen students who have completed Associate of Science degrees in Golf Management programs. In a ceremony among faculty and administrators, the graduates received commemorative pins to acknowledge their academic achievements.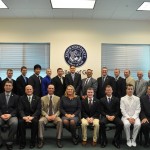 Among the recent graduates were Chad A. Alibozek of Adams, Mass.; Ben Anderson of Boonville, Calif.; Joshua Burdick of Vero Beach, Fla.; John E, Cryer, Jr. of Houston, Texas; Joseph Daniel of St. Petersburg, Fla.; Tyler Foley of Worcester, Mass.; Frederick Hager of Pahokee, Fla.; Michael Kolar of Bartlett, Ill.; Johnny Maldonado of Port St. Lucie, Fla.; Douglas Marshall of Joplin, Mo.;Jeremy Meyer of Johns Creek, Ga.; William Allen Milstead of Calhoun, La.; Luke Mitchell of Ocean Grove, N.J.; David Money of Melbourne, Fla.; Connie Rummel of Palm Bay, Fla.; Graham Shearer of Blufton, Ind.; Jeffrey Snyder of Charlottesville, Va.; Blake Testerman of Fawn Grove, Penn.; Nicholas Vinios of Boston, Mass.; and Eddie Walters of Port St. Lucie, Fla. In addition, international graduates included Benjamin Brown of Essex, England and Sattamate Nopsuwanwong of Bangkok, Thailand.
"A quality education is a fundamental cornerstone to a successful career and everyone at Keiser University is proud to recognize the achievements of our new graduates," says John McMurry, Campus Vice-President of Keiser University College of Golf & Sport Management. "These new graduates have completed courses in tournament operations, golf course design and maintenance, golf club fitting and repair, retail management, golf history and much more. I know they all have fun and successful careers ahead of them in the golf industry."
The Keiser University COGSM campus features a 20,000-square-foot facility which includes a 1,500-square-foot indoor putting green, advanced launch monitor technology, an interactive golf simulator powered by Sports Coach Systems, TaylorMade MAT-T swing analysis system, and a golf club repair lab equipped by Mitchell Golf Equipment. Students also receive access to the highly acclaimed PGA Center for Golf Learning and Performance where they can practice on a 35-acre lighted practice range, short game areas, bunker facility and extensive putting greens. In addition, Keiser University College of Golf & Sport Management gives students access to several PGA Master Professionals, such as Brian Hughes and Dr. Eric Wilson, as well as Golf Magazine top 100 teacher Dr. T.J. Tomasi.
The Keiser University COGSM degree in Golf Management prepares students for a wide variety of positions in the golf industry. The program gives students the educational background and training to provide golf instruction, manage golf course operations, ensure proper maintenance of golf facilities and equipment, as well as how to incorporate the play of golf into the broader hospitality and recreation domain. Keiser University COGSM's Bachelor of Science in Sport Management degree (with a concentration in golf management) focuses on the managerial and business aspects of a career in golf. The curriculum supports an expanded professional role of sports managers and graduates of associate degree programs in golf, hospitality, fitness, sports, recreation and other related fields. That's one of the reasons Keiser University COGSM shines as a professional golf school.
For more information on attending Keiser University College of Golf & Sport Management, please contact the College of Golf campus at 1860 Fountainview Blvd, Port St. Lucie, Fla. 34986; online at www.CollegeofGolf.KeiserUniversity.edu; or call 888.355.4465.
About Keiser University College of Golf & Sport Management
About Keiser University:
Keiser University is a private, not-for-profit university serving nearly 20,000 students pursuing doctoral through associate degrees on 17 campuses, online and internationally, employing 3,500 staff and faculty. Keiser University holds Level VI accreditation signifying recognition of its expanded doctoral degree offerings. Sixty-two percent of KU students graduate in STEM (Science, Technology, Engineering and Math) and healthcare fields, providing the talented workforce necessary for Florida to compete globally. Over 20 percent of Keiser University students are members of the armed services, veterans, or military family members. Keiser University is accredited by the Southern Association of Colleges and Schools Commission on Colleges to award certificates and degrees at the associate, baccalaureate, masters, specialist, and doctoral levels. Contact the Commission on Colleges at 1866 Southern Lane, Decatur, Georgia 30033-4097 or call 404.679.4500 for questions about the accreditation of Keiser University.