KC Tees Unites With Susan G Komen For Breast Cancer Awareness Month
Industry: Cancer Awareness, Non Profit
Local Company Designs Special Tee Shirts For The Los Angeles Affiliate During Breast Cancer Awareness Month
Los Angeles, CA (PRUnderground) October 5th, 2010
KC Tees (www.KCTees.com) – a Latina-inspired line of graphic tees is proud to announce they have created a specialty "T" for Susan G. Komen for the Cure® – the world's largest breast cancer organization to raise awareness during the month of October.  "We have a campaign to raise 1 million dollars during the month of October for services right here in our County so it is fitting to have this beautiful Los Angeles inspired design."  says Deb Anthony, Executive Director of the Los Angeles Affiliate.
KC Tees has also designed a special, limited-edition "Love & Hope Ribbon" tee benefiting the organization. Now through December 31st, KC Tees will donate 20% of the proceeds from every tee sold to Susan G. Komen for the Cure®.
"We are thrilled to have been given the opportunity to design these special tees for Susan G. Komen," said Karen Crawford, CEO and Founder of KC Tees.  "The organization's mission to raise awareness, educate women about early detection and help support the research to find a cure is paramount.  Our involvement in designing this tee and the "Love & Hope" is simply our way to give back!"
To help support this cause, please visit www.KomenLaCounty.org and www.KCTees.com.
About Susan G. Komen for the Cure
Susan G. Komen® was founded by Nancy Brinker as a promise to her sister who was dying of breast cancer.  As a global leader of the breast cancer movement since 1982, over $1.5 billion has been invested in research and programs. Locally, the Los Angeles Affiliate has given over 8.2 million dollars in services in the past 15 years.
75% of what is raised stays here, in our county, for education and diagnosis and treatment of breast cancer.  The other 25% is used for National Research. Susan G. Komen is regarded as the most innovative and responsive grant program in breast cancer research.
About KC Tees
KC Tees is a line of Latina-themed graphic tees that are stylish and inspirational, featuring messages in both English and Spanish.
Created in an effort to inspire integrity, respect and self-esteem with messages we can all embrace, KC Tees promote universal themes and messages, some of which include: Paz (Peace). Amor (Love), Fe (Faith) and more!
To check out KC Tees, please visit www.KCTees.com or www.KCLosAngeles.com.
KC Tees Contact:
Inna Shamis
732-385-1714
inna@agcomgroup.com
Susan G. Komen LA County Contact:
Brynn Harris
310-575-8889
bharris@komenlacounty.org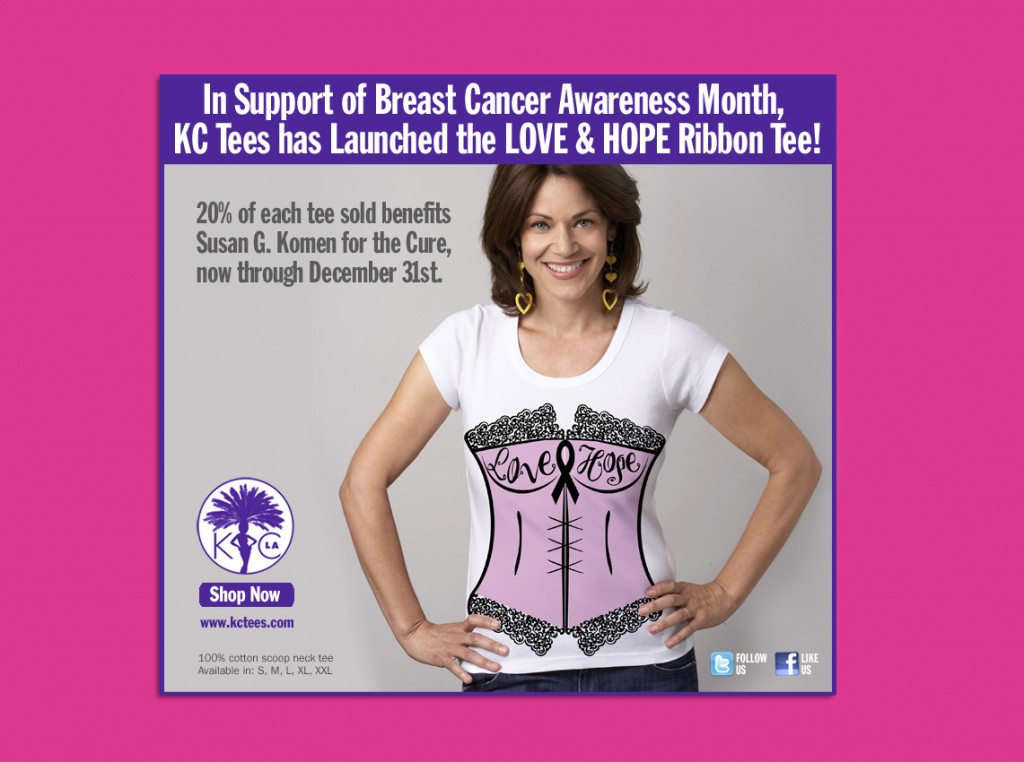 About