Just few days to London's first-ever FestivalAsia, an amazing celebration of all-things Asian!!
Industry: Festivals
The debut of FestivalAsia, the largest all-Asian festival ever, hitting Central London from Friday 15th May to Sunday 17th May at Tobacco Dock for the very first time.
United Kingdom (PRUnderground) May 11th, 2015
FestivalAsia, the largest all-Asian festival ever, hits London for the very first time from Friday 15th May to Sunday 17thMay at Tobacco Dock. A fabulous mix of pan-Asian cultural, culinary and artistic delights, which comprise exhibitors and performances along with a cultural room, a spiritual room, a fashion carnival, performances, martial arts, music, art and spirituality constantly for the whole 3 days.
There is something for everyone at FestivalAsia including the chance to sample food from more than 20 Asian countries and taste original Asian branding liquor at the unique Asian bar!
Rest assured that children will have plenty to involve them in the Kid's Kingdom area. Or why not try out the free drumming workshops from Taiko drummers.
The programme for this exotic pan-Asian celebration includes the visually-enthralling Guan Yin Double Lion Dance or revel in the sublime, elegant moves and colourful garb of INA Indonesian dance troupe. Other acts include sitar player/composer Jonathan Mayer with table accompaniment. Or listen to Akari Mochizuki – the only Enka singer in the UK accompanied by accomplished master Hibiki Ichikawa on the Japanese Tsugaru Shamisen. Don't miss Orientalya's exciting Bollywood dance fusion with special guest Sunny Singh-renowned choreographer of more than 50 Bollywood films. Watch the sultry moves and enthralling costumes of belly-dancing from Fleur Estelle Dance School or hear the sublime melodies of award-winning Korean violinist Eunsley, thedulcet tones of Chinese PipaPlayer, Cheng Yu or the unique sound of Mia Ismi Halida – batik violinist & vocalist.
In addition, Indonesia Pavilion – Emerald of the Equator showcases the artistic and cultural highlights of this huge archipelago with presentations from the Indonesian Embassy, from the Ambassador of the Philippines and the Mongolian and Korean Embassies.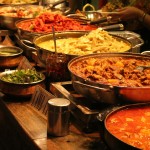 Be awe-inspired by a wondrous and diverse display of Martial Arts on its own dedicated stage, including the Japanese swordsmanship of 7th Dan John Maki Evans, Battodo Fudokan or techniques of Korean mind-body training from Dahn Yoga.
In the cultural room, why not try learning Mandarin – one of the world's fastest-growing languages – with a taster session from the Magna Education Mandarin Training Centre or try your hand at world-renowned Asian mind sport 'Go' with the British Go Association. You can also learn about Japanese comic art form, Manga or even get a self-portrait as a Manga character! The spirituality room incorporates everything from Zen Buddhism to a range of Yoga disciplines, as well as Reiki healing.
The unique focus of FestivalAsia, of which the official radio partner is Panjab Radio, is that it embraces the diversity of Asian Cultures from some of the countries making up this fascinating continent. This pioneering festival is predicted to attract thousands of visitors who can expect an inspirational mix of music, dance, food, fashion, martial arts and much more, sure to enlighten, educate, move and entertain.
FestivalAsia is created and produced by Lilisan Ltd, in collaboration with Barley Arts International Ltd.
Lycamobile is proud to be the official sponsor of FestivalAsia.
About World Concert Artists
World Concert Artists: International Entertainment Agency, Booking Agents for Artists, Shows, Exhibitions. Entertainment providers for Corporate Events & Private Parties, Booking for Festivals, TV and Special Events, Management.