June & January Release New Clothes; Hoodie and Hoodie Dresses
Industry: Children's Apparel
June & January's celebrity-loved clothing line just expanded. The brand, known for selling hipster clothes for kids, just released hoodies and hoodie dresses.
Brooklyn, New York (PRUnderground) August 6th, 2015
June & January, leading designer and retailer of kids hipster clothes, announce the expansion of their in-demand inventory. The latest clothing items include hoodies and hoodie dresses.
Their loose-fitting pullover hoodie is perfect for chilly summer evenings or the upcoming fall season. Made from super-soft, breathable French terry cotton fabric and finished with pint-sized short sleeves, stylish boys and girls will make the June & January hoodie a staple item in their wardrobe.
For those that love hipster kids clothes for girls, June & January's hoodie dresses are to die for. The perfect heavy-weight dress to throw on after a day at the pool or to stay fashionable warm on a night of cool-breezes, these hoodie dresses are also made of breathable French terry cotton.
Being true to who they are is what has contributed to the exponential growth of the company. Started in the winter of 2010, June & January (formerly Little Hip Squeaks) started as a side project to keep Amy Richardson-Golia, CEO of June & January, busy during her pregnancy. She focused on offering unique baby girl headbands and blankets. With some interest from friends and family, she was encouraged to open an Etsy shop. After more than 5,500 sales on Etsy, the move was made to launch a full-service retail website. The rest is history.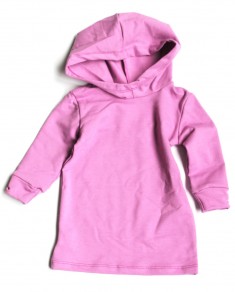 Ms. Richardson-Golia comments on the company's sky rocketing stardom. "2015 has been phenomenal. We successfully rebranded, have been worn by celebrity families and expanded our clothing line." She continues. "As long as we stay true to who we are, what we offer, and keep an open-mind to embracing feedback from our customers, we can only continue to go up."
June & January's unique stylings have been recognized on several celebrity families throughout various media outlets. Kourtney Kardashian's daughter was recently spied wearing a June & January cropped tank. Rob Kardashian also Instagram'd the same lil' cutie, which was featured on US Weekly.
To find out what all of the rage over June & January is about, visit www.JuneandJanuary.com or check out the company's day-to-day cuteness at instagram.com/juneandjanuary.
About June & January
Established in 2010, June & January sells hipster clothes for kids and headbands for girls. June & January believes kids are fun and their clothes should be, too.