John Fowler Holidays open brand new Dunes entertainment venue
Industry: Tourism/Vacation
John Fowler Holidays' caravan park in Somerset has officially unveiled its brand new Dunes entertainment venue, after an 8 week renovation project.
Somerset, UK (PRUnderground) March 17th, 2015
Sandy Glade, the Somerset offering of John Fowler's family holiday parks, has officially opened the doors to its brand new Dunes entertainment venue.
The Somerset holiday park is committed to an ongoing refurbishment programme, with the overhauled clubhouse joining top of the range platinum caravans and lodges for the 2015 season.
Dunes, rebranded from Bumbles because of the holiday park's location opposite Berrow beach, has been an 8 week off-season project and Cathie Whormsley, Sales and Marketing Manager at John Fowler Holidays, is delighted with the turn around. She said: "We're very proud of our refurbished clubhouse at Sandy Glade Holiday Park. The team on the park have worked really hard to deliver a fantastic new venue in a short space of time."
The project saw the old clubhouse interior completely gutted before new flooring and carpet was laid, internal and external walls repainted to a beach theme, and new doors fitted. The reception area has also been rebuilt as part of the renovation.
Venue capacity has increased with more comfortable seating and furniture introduced. Additional TV screens have been put up to show live sports fixtures and a new entertainment system will allow the park to move to live link bingo later in the season.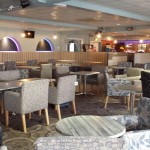 Cathie added: "We were very keen for the design to reflect the location of the park, opposite the sand dunes of Berrow beach, and to provide a modern and welcoming environment for our owners and guests."
"The grand opening was on Saturday night with the ribbon being cut with the help of two of our younger guests, Holly & Ashton. The night of entertainment was rounded off with a set by The Easybeats. A great night was had by all and we are looking forward to an exciting season on this popular park."
There has been a large capital investment from John Fowler Holidays to get Dunes completed, and the caravan park in Somerset is just the first in a series of planned clubhouse renovations which will also span their Devon and Cornwall holiday parks.
About John Fowler Holidays
John Fowler Holiday Parks – Ideal for Devon, Cornwall & Somerset UK Holidays for all of the family. Find a caravan park or holiday park for your 2015 family holidays.
Just like the great magician who wows the crowd with his magic, here at John Fowler Holiday Parks we will amaze you with our stunning family UK breaks 2015 and extraordinary low prices. You will be baffled as to how we can achieve such fantastic offers all year round and in such magical surroundings. We are continually pulling unbelievable offers out of the hat to surprise and delight our customers. Above all, it is our dedication to ensure that everyone can enjoy a UK Family Holiday 2015 at John Fowler that makes for a magical experience.