Jobs4Homeless Explodes with Solutions for Homeless, Announces Plans for Large Warehouse to Employ Homeless
Industry: Small Business
Jobs4Homeless has announced a brand new raffle event to raise funds for larger facility, more opportunities for homeless.
Springfield, Missouri (PRUnderground) May 22nd, 2015
Jobs4Homeless has announced plans to expand again after opening 3 new homeless employment centers in past 2 months. "Each location is self supporting and we need more space to create new jobs for those who want something more out of life than being homeless," says Jobs4Homeless founder James Bruggeman
James Bruggeman, founder of both Jobs4Homeless and Incredible Thrift, believes in "a hand up" vs. a hand out methodology. As someone who has a personal background of family addiction, homelessness, and other challenges, Bruggeman decided to launch his mission to employ those who are homeless. Incredible Thrift started 2 years ago with $2,500 in start-up funds. Today they operate 2 thrift stores and a warehouse. "As an insider, I understood a new approach was needed for homelessness. Too many are homeless due to circumstances and too many are homeless due to choice and addiction," said Bruggeman. "The 'hand out' systems are mostly broken with little accountability. We are a very giving community yet our homeless numbers continue to rise. New solutions are needed."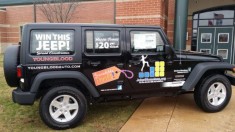 Along with providing jobs, they teach homeless young people core principles such as integrity, giving back, work ethic, living clean, and goal setting. Once a participant is ready to enter the work force, he or she is placed into a full-time work opportunity with one of the organization's community business partners. According to Jobs4Homeless, "A hand up with jobs is the long term solution for most homelessness."
The goal of raising money to employ homeless and at-risk young people started with garage sales to raise funds. Jobs4Homeless currently offers their Incredible Thrift Stores as a way to employ and pay the youth. The goal is to accomplish their lofty mission without grants, government funding, or seeking financial donations from their community.  Jobs4Homeless has a "self supporting" business model which seeks only "start up or project capital" to get project locations underway. At present, they are using a new 2015 Jeep Wrangler provided by Youngblood Auto to raise funds for their new warehouse and will soon announce a major clothing drive that will encompass several counties.
Funds are needed to reach the company's goal of opening a 20,000 square foot warehouse. The new warehouse will provide a large homeless employment center, corporate headquarters for nationwide expansion, as well as offer classrooms and recycling facilities. For a pledge of $20, donors will receive a raffle ticket for the chance to win a 2015 Jeep Wrangler. 1,700 tickets must sell for the Jeep to be raffled, and if this goal isn't met, the prize will be a 50/50 cash raffle. There is currently over $5000 in cash pot with 2 weeks remaining.  Drawing entries will be verified by outside sources, and participants need not be present to win. The drawing will be held on the evening of June 6, 2015 at Youngblood Jeep. Tickets are available at several locations and online.
More information is available at http://jobs4homeless.org.
About Jobs4Homeless/Incredible Thrift
Jobs4Homeless and Incredible Thrift were each launched by James Bruggeman to give back to the community with quality goods and by providing community outreach to help homeless people find gainful employment and enhance their lives.