Interstate Roofing Goes Above And Beyond Giving Away A Roof To A Family In Need!
Industry: Home & Residential
Interstate Roofing coordinates a day of volunteers to do additional home repairs.
Denver, CO (PRUnderground) September 18th, 2015
Interstate Roofing will be installing a brand new roof on Saturday, September 19, 2015 for the winners of the Roofs In Need contest http://interstateroof.com/roofsinneed. But that's not all!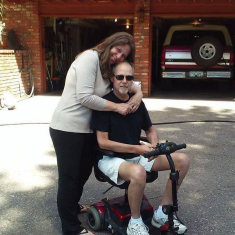 They have coordinated volunteers to help with additional home repairs such as painting, installing a handicap toilet, removing/trimming overgrown tree branches hanging over the house, gardening, re-mulching, and more!
They will also be providing food and drinks for all of the volunteers as well as barbequing!
Since winning the contest via social media voting, Gary Sheets' cancer has taken a turn for the worse and his wife Susan is taking care of him at home.
If you'd like to volunteer or cover this event, please join us this Saturday, September 19th at 29105 Pine Road, Evergreen, Colorado 80439
"We feel it is crucial to continually give back to our community and those in need!" Daniele & Scott Riopelle, Owners of Interstate Roof
https://twitter.com/InterstateRoof
https://www.facebook.com/interstateroof/timeline
FACEBOOK COMMENTS:
Terri-Ann Feindt
What a wonderful thing you're doing for a family in need…. I'm in NJ and heard about this. THIS is what I miss about living in Denver!!!!!!!!!!!!
Karen Passanante
Just want to give you all a shout out for paying it forward to our community . you are a great company to give such a gift as a new roof to a family in need!
Nomination form submitted by Lynn Scheuer:
Gary's Life
Three years ago Gary found he had stage 4 colon cancer. He had to quit work and hasn't worked for 2 years. The cancer treatment depleted their savings, their 401K and they had to declare bankruptcy to keep him in treatment. They lost their insurance due to his loss of a job. There are multiple, major household issues because they can't afford to maintain the house. Last spring they had a leak in the roof that almost collapsed the living room ceiling. The roof shingles are t-lock which makes the roof uninsurable. They cannot afford a new one. They a friend patch the leak for a temporary fix. These people are our wonderful neighbors and have tried to be strong and independent. Gary is still on chemo . This seems to be the last one available for him. It would be such a relief for them at such a stressful time.
The roof is old t-lock shingles. I am guessing 20 years at least. I have included a picture of the roof from out house, but could not get a picture from the front where the leak was around the chimney. They have it temporarily patched, but there is no guarantee how long it will last. Especially with the rains we have been having this year.
If you would like more information about this topic, please contact Tammy at 720-971-9178 or email at tammy@roofingcontractormarketing.com.
About Interstate Roofing