Innovative Chef Combines Mobile Food Trucks and Art in a One-Time-Only Event
Industry: Food and Drink
Chris Jarosz, Chef/Owner at the Wicked 'Wich mobile food truck announced, "Desaturated: A Mobile Infusion," a one-time-only special art-meets-mobile food event in Sacramento, CA on February 24, 2012.
San Francisco (PRUnderground) February 23rd, 2012
Chris Jarosz, one of Northern California's most innovative chefs, and owner of the Wicked 'Wich mobile food truck announced a one-time-only mobile food-meets-art event at Beatnik Studios in Downtown Sacramento on Friday, February 24, 2012.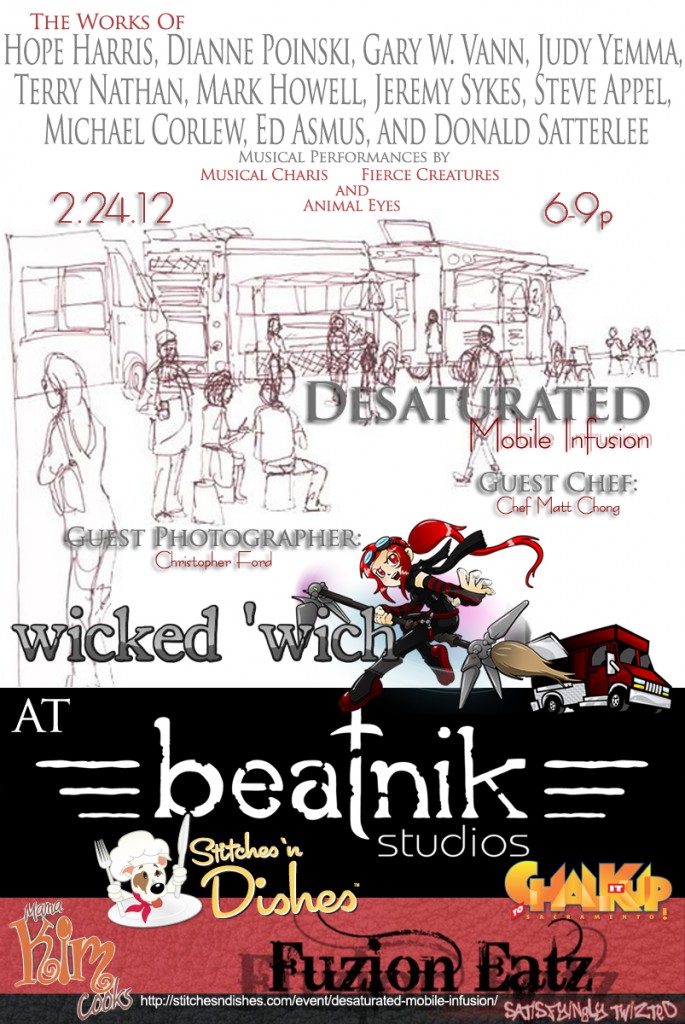 Wicked 'Wich is one of Sacramento's top-rated, premier gourmet food trucks, which began as a simple sandwich truck, serving East-Coast inspired sandwiches in late 2011. Jarosz uses Social Media Marketing techniques to learn about his customers, and to create his "wicked atmosphere."
On February 24, Jarosz will bring guest chef, Matt Chong (former Chef/Owner of the acclaimed Infusion Café) on board his infamous "Wich," along with two of Sacramento's most coveted, and art-influenced gourmet food trucks, Mama Kim's on the Go, and Fuzion Eatz to Beatnik Studios for a very unique experience of art-infused dining and exhibits.
"I'm very excited to have Chef Matt as our first guest chef on the Wich. Our customers will appreciate his style, and they'll love his food," said Jarosz.
Matt Chong's culinary works, inspired by what he calls "ethnic soul food" are an interpretation of the cuisines of our poor ancestors and cultural histories.
"This event will be a multi-sensory appreciation of food-infused art with Chef Matt's chicken, pork and vegan creations along with the unsurpassed flavors of Chefs Kim Scott and Jeremy Lopez," Said Christopher Ford, Co-Founder of Stitches 'n Dishes.
Beatnik Studios presents, "Desaturated," exhibiting the works of 11 of Northern California's Preeminent Photographers, including Hope Harris, Dianne Poinski, Gary W. Vann, Judy Yemma, Terry Nathan, Mark Howell, Jeremy Sykes, Steve Appel, Michael Corlew, Ed Asmus, and Donald Satterlee.
Working within the limited confines of black & white, these visual artists rely on the bare essentials of tonality and contrast to create their moody, timeless images.
Noted Fashion and Entertainment photographer, and Co-Founder of Stitches 'n Dishes, Christopher Ford and Chef Chris Jarosz will team up to create photographic interpretations of Jarosz' "wicked" dishes in a live photo shoot during the event.
Beer and wine service will be provided by Chalk it Up, a non-profit organization dedicated to funding children's art education in the Sacramento region, and guests will be entertained with live performances by Musical Charis, Fierce Creatures and Animal Eyes.
Chef Chong's menu will include Pork Bahn Mi, Vegan Banh Mi, Pork Belly, fresh Chicharrones, and Chicken Adobo. Mama Kim's on the Go and Fuzion Eatz will bring their gourmet new and traditional American, as well as international fusion dishes to the event.
Coinciding with the first day of Beer Week, Desaturated: A Mobile Infusion is the first mobile food event in Northern California to fully integrate art and mobile food in live exhibitions.
"This is something people will want to come out and see," said Jarosz. "Anyone who appreciates art and photography, and gourmet food will want to experience this event."
Contact:
Chris Jarosz, Chef / Owner, Wicked 'Wich
chris@wichonwheels.com
916-420-3850
About Stitches 'n Dishes:
Stitches 'n Dishes, the creation of Christopher Ford and Andrew Nicora, and inspired by "Stitch", an American Staff. Terrier mix / Bichon Frise, provides marketing, advertising and PR services to the mobile foods industry and it provides consumers with a single source for original articles, reviews, food photography, California fairs and events, discounts, contests and giveaways.
Stitches 'n Dishes is California's premier mobile foods resource, providing a platform that stitches a link between food lovers, entertainment venues and mobile food operators, and the first fully dedicated marketing, advertising and development resource available to food vendors in California.
Contact:
Christopher Ford, Co-Founder
Stitches 'n Dishes
chris@stitchesndishes.com
916-612-9954
About