Innovation,The Key for Food Processing Industry,Going Ahead – Literated Market Research
Industry: Food Manufacturing
The food processing industry is driven by cost concerns as people become more conscious about the value of the food they consume
Bangalore,India (PRUnderground) September 23rd, 2015
The food processing industry is driven by cost concerns as people become more conscious about the value of the food they consume. Struck by food related health problems like obesity and high pressure, a very large section of the global consumers of processed food are getting increasingly aware and conscious about the fat content and the calorific value of the food they consume.
In the months and years ahead while the industry has to conform  the dietary demands of clients, it would also need to innovate to cater to the growing literacy of the customers, thanks to the internet. There is also increasing pressure on the manufacturers to reduce costs.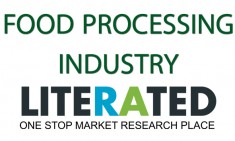 Innovation can help manufacturers maintain profitability and bring in new products in the market. This would increase the sustainability of the companies and would also help in bring in modifications to the product line and product categories.
Innovation is that aspect of the  business that can enable food processing companies to become more cost-effective in manufacturing by standardizing equipment and exploring automation to minimize labor costs.
Business process that reduces costs of training and other overheads are recommended for the food processing industry.
In order to drive down their costs, food processing industry should move towards innovation and the standardization of certain product categories. Development of new cost models and optimizing the use of manufacturing resources can help companies to reduce costs through innovation.
In the long run, food processing units would need to have the flexibility to run products with higher margins without taking away from their companies' "bread and butter".
Since modern food processing involves product lines, companies need to look deeper into the profitability of a product category, manufacturing line or a particular stock keeping unit.
Another aspect of innovation that the industry should look into going forward is increasing energy efficiency. This would help reduce costs during manufacturing, storage and distribution. Being energy efficient means being environmentally friendly, which is a concern for many modern ethical consumers – in 2015 and in the years to come.
Refrigeration, during storage and transportation is another aspect that can be optimized by innovation to reduce losses due to spoilage. Innovation in refrigeration and storage facilities can help maintain the nutritional value of the products as well as reduce energy consumption and save costs for companies by reducing spoilage. New refrigerants are being developed and new strategies of refrigeration are increasing the shelf life of processed food, which are often perishable, thus reducing spoilage and increasing profitability.
For more Market research reports visit Literated.com
About Literated
Literated.com is a disruptive startup in market research domain where professionals can rent or buy market research reports from various industry verticals.
Visit https://literated.com for more info