i.b.b.i. Collection Launches Indiegogo Crowdfunding Campaign to Raise Support for Capsule Collection
Industry: Fashion
Fashionable, luxurious, on trend, plus sized knit dresses celebrating you and your curves
NEW YORK, New York (PRUnderground) February 2nd, 2016
i.b.b.i. Collection, high-fashion knit dresses designed specifically for the plus size woman, has announced the launch of an Indiegogo crowdfunding campaign, aimed at broadening their campaign base and bringing its next capsule collection to market.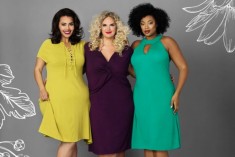 i.b.b.i. Collection anticipates raising $25,000 through its Indiegogo campaign, which was announced on Thursday, January 28. The Indiegogo campaign will run for a 40-day period, through March 9, offering exclusive opportunities for crowdfunding backers and an opportunity to preview the latest capsule collection of dresses.
"We want to give every proud, plus-sized woman a chance to feel confident and wonderfully curvaceous in clothing that's made specifically for her body type," said Ann, Co-owner of i.b.b.i. Collection. "We're launching our Indiegogo campaign as a way to directly connect women all around the world with the styles and trends of our Capsule III collection and introduce them to a higher standard of fashionable, body conscious knitwear, made specifically for their body type."
As added incentive, backers of the i.b.b.i. Collection Capsule III launch campaign on Indiegogo will benefit from a number of unique rewards based on the platform's award tiers, ranging from spotlighted mention on the i.b.b.i Collection website to tote bags to limited edition dresses from previous Capsule collections to a chance to collaborate on the design of future Collection product.
In conjunction with its Indiegogo project, i.b.b.i. collection is also launching a hashtag campaign, aimed at both raising awareness for the brand and driving participation in its crowdfunding endeavor. The hashtag #ibbiwoman will be used across the designer's social media platforms, encouraging plus-sized women to share why they love their body image. Indiegogo project updates will also be featured within the hashtag cloud on Twitter and Instagram.
i.b.b.i. Collection's Indiegogo campaign comes on the heels of a highly successful launch of its Capsule II line of dresses in late 2015. This collection of full fashioned included the highly popular Sophia, Naomi and Isabella designs. The company anticipates an increased demand for its Capsule III collection, which will continue on with fashion forward styling designed specifically for the plus size woman as introduced in the previous Capsule collections.
"We design specifically for the plus-sized woman which leads to better, fit, form and style overall," said Francoise, Co-owner of i.b.b.i. Collection. "Our garments start with plus-size women in mind, not as a size 6 or 8 that needs to be adapted to larger sizes. Instead, our fit model is a size 16 so our fit is true to the plus size body."
For more information about i.b.b.i. Collection or to view previous collections, please visit https://ibbicollection.com/. To view or contribute to the Indiegogo crowdfunding campaign for its Capsule III line of  dresses, please visit the campaign page at http://igg.me/at/ibbiworld/x/13182192.
About i.b.b.i. Collection
Founded by garment industry veterans, the i.b.b.i. Collection caters exclusively to plus-sized women who embrace their curves, are fashion-forward in their style, and are confident, sexy and sophisticated. The company's mantra, "I'm bold, beautiful and irresistible," speaks to who the i.b.b.i. woman is and is backed up by the company's highly active promotion of body acceptance within the fashion industry. i.b.b.i. Collection focuses on producing limited-run capsule collections, showcasing on-trend designs, rich patterns and quality full-fashioned knits.