A few days ago a client of mine asked me, "How can I get more traffic to my blog?" I gave her many tips and she told me she wanted something different. Another way to make her blog post appear on a popular site which would allow her to link it back to her website, share it, make it appear on Google News and more. I told her about a tactic I use on CNN that does everything she wanted and more. My client was blown away by this information and begged me to share it with the world. I was a bit hesitant but after talking to my co-worker Gina Nieves, I decided to go for it.
CNN is a very powerful tool which can be used to link back to your website. CNN does not show you how to create a back link. Lucky for you, I will show you this and more. Here are some of the benefits:
It's ranked as the 74th most popular site in the world. In America it is the 23rd most popular site. Can you say "Fresh Link"
Who doesn't want their blog post to appear on CNN?
Its social!! You can share it on Google+, Facebook and Twitter.
Appear on Google News
Another great way to get traffic and attention to your blog
Here are the step by step instructions on how to get your blog more traffic using CNN:
Step 1: Create an account on www.cnn.com
Go to the upper right hand corner an click on Sign up.

Step 2: Go to the navigation bar and click on iReport.
You are now in your newsroom dashboard.

Step 3: On the upper right hand corner you will see Upload
Click on upload. Here is where you will upload your blog post.

Step 4: Now it's time to Post Your Blog.
Here you will copy and paste your blog post. It is very easy. Just go to the required fields and paste. Do not do any editing yet. It is very important you add tags. People who are interested in your topic will find your article via tags. Tags are like keywords. Make sure you add a related photo.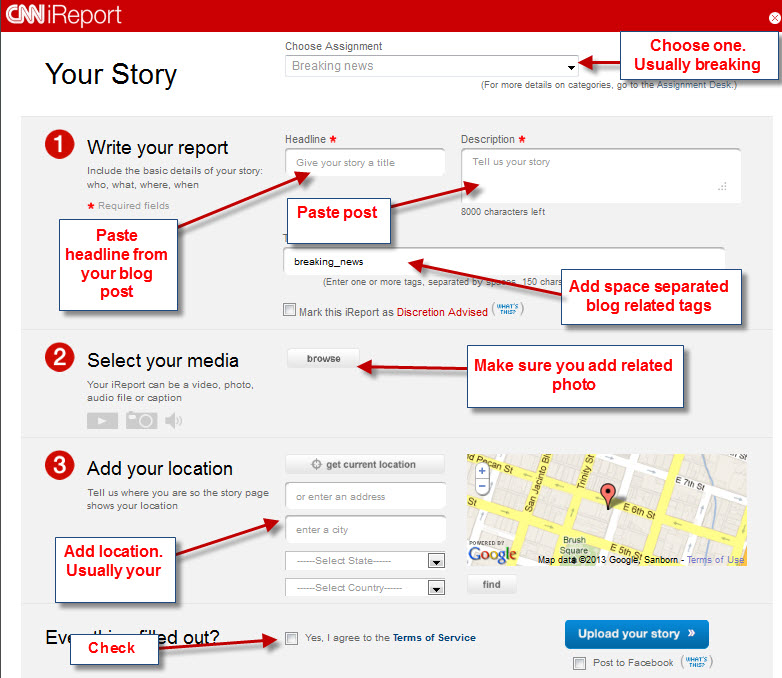 Step 5: You will now edit your story
When you first post your blog, CNN does allow you to add HTML link tags. This is where my little known secret comes into play. Go to your dashboard, find your latest entry and click edit.  You can now edit your article. To the left you will see the bold, italic and underline icons. If you look to the right, you will see the HTML link. Click on the link and now you will see your article in HTML format. This is where you will link CNN to your actual blog or website.

Step 6: Linking CNN to your blog and website
Use the HTML link tag like this: <a href="http://yourwebsitegoeshere.com/">Word your linking goes here</a> For example I want to link to my home page. When using this link tag, it will look like this: PR Underground. Here is how the code looks: <a href="http://prunderground.com/">PR Underground</a>
Once you add the links just scroll to the bottom and click Save Update. Its that easy. Now you have added your blog post to CNN. Go ahead and share it on Facebook and Twitter.
If you want more great tips, feel free to sign up for my Google Ranking tips or contact me here.
How are you sharing your blog post with the world? Share it with us.
About