By Alex Miranda
There are very few services that have the ability to provide content and get it ranked high on Google within minutes. With a social media press release (SMPR) you can do just that. An SMPR is also very search engine friendly as you will see.  What if I told you that for under $20 not only will you rank high on Google within minutes but you will also increase traffic to your website dramatically.

So why a social media press release and what are it's advantages?
Rank higher in search engines
Appear on Google News within 5 minutes
Target hard to rank keywords
Increase traffic to your website
Immediately generate inbound links
Share your release on multiple social media sites
Use it as an online press kit
By following my simple steps below, you can take full advantage of everything an SMPR offers. It's social media and SEO all in one. The first part I will talk about is the content section of the press release.
Title – This is the most important part of a press release. It the heading of the press release. Coming up with the perfect title can triple your page views on a press release. Here is what you need to do:
Keep the title to a total of 75 characters including spacing.
Make sure it is compelling and grabs people attention.
Include a keyword phrase you wish to rank for on Google. I wanted to rank on page one of Google for the search term "Free SEO website review" so I created a title with that keyword phrase in it and just like that I ranked on page one.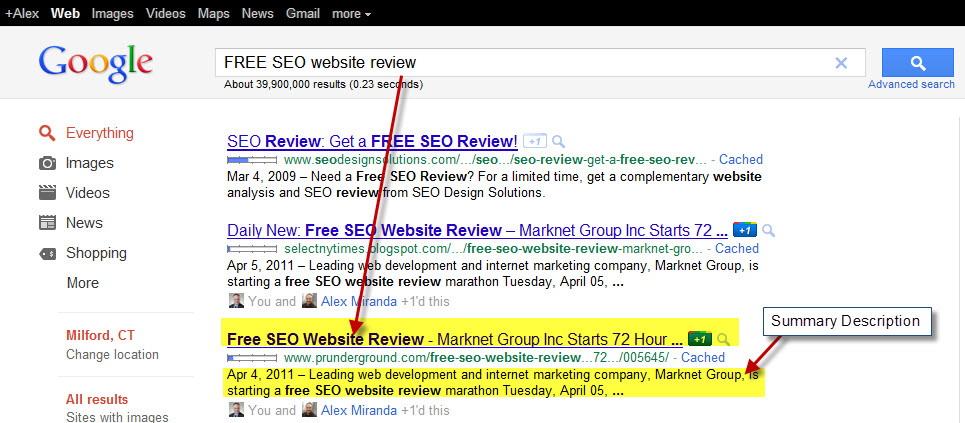 Summary – The summary gives a brief description of what your press release is about. It is the description people will see on Google when doing a search. Here is what to do:
Keep it at 165 characters or less.
Make it compelling. You want people to read this and continue reading the entire release.
Include the keyword phrase.
Body – This is where you tell the story.
Keep it at a minimum of 400 characters.
Include a quote from someone of importance related to the brand, product or service.
Include an "About XYZ Company"
So that is it for the content part of the social media press release. The next part of the SMPR is the search engine optimization and social media part of the release.
Embedded anchor keyword links – Within the body of the press release make sure that you keywords with links linking back to your website.
Instead of just adding the entire URL such as http://www.yourwebsite.com try instead adding this code

<a href="http://www.yourwebsite.com ">keyword</a>

This will enable you to add a Keyword that will link back to your website.
Add no more than 3 anchor links
Live Site View – Your website is live at the bottom of the press release and can be navigated without ever leaving the page.
Tags – Tags are used to categorize and describe the content of your press release using simple keywords. many press releases never add tags and they are very important.
Users of social bookmarking sites can then search for relevant information using the tags given to the release. Tags are how people find the resources they want on social bookmarks.
Use keywords from your release as tags. For instance if the release is about a Diamond jewelery sale in Beverly Hills, then you would use as tags: Jewelery, Sale, Beverly Hills, Diamonds, Gifts..etc
Use as many tags as possible
Google picks up tags as keywords which enables people to find your article using tags.
Multimedia – Media should include a minimum of 1 image associated with the release but no more than 2. If possible, It should also include a video hosted on YouTube or Vimeo.
Images can be either logo or image associated with release.
Make sure the image has a description not a number such as 1456.img. Using a keyword as a description is a great idea
Try to include a video associated with the press release. If you do not have a video, use one from YouTube that relates to the release.
Social Networks – It is important that you include your Facebook, Twitter, YouTube and RSS feed channels if you have accounts with them. They will link directly from your press release to your network profile.
Social Bookmarking – This is huge. Social bookmarking websites are a great way to get tons of traffic and distribute your release.
Join as many social bookmarking site as possible.
Sites such as Digg, StumbleUpon, Reddit and Technorati are all great for sharing your release.
Increase the exposure your release will receive when adding your release through these channels.
For instance, if you share your release with Friendfeed or Netvibes many times it will rank on page one of Google.
People will find your release using the tags you created.
RSS Feeds – Real simple syndication is a format used to publish and distribute your release via targeted subscribers.
Forums, blogs, communities, special interest groups and journalist all use RSS feeds to find share and distribute articles.
Sharing – This is where many people fail big time when they pay for a social media press release to be distributed. It is very important that you use all the tools listed above and the ones listed below to share your release. Do not just leave it to the SMPR company. After all it is a social media press release and the more you share, the more exposure you receive. The press release below was tweeted over 96 times, shared numerous times and come up on the first 7 pages of Google.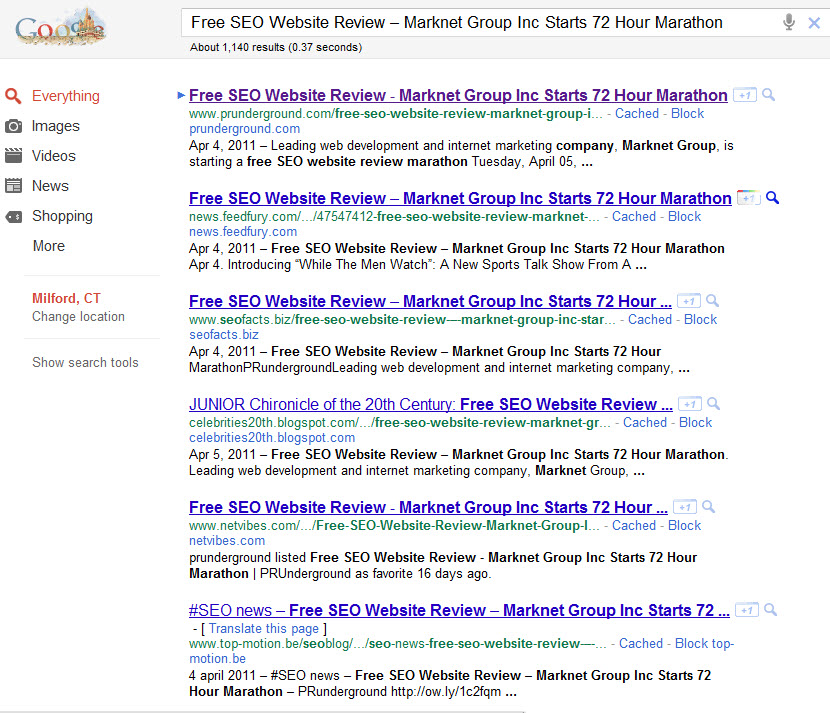 At the bottom of the release there is a Twitter share icon, Click it to share on Twitter.
Below the Twitter icon is the Google +1 icon. Click on it and share.
Below that is an online press kit for sharing. You can email it, print it, create a PDF and share it via RSS.
Post it on Facebook, Twitter, LinkedIn and GooglePlus.
Share this article is there for a reason…Use it.
Add the press release to your website or blog.
Using the techniques I have mentioned and the tools provided within the press release, you should be able to gain tons of traffic to your website and rank high on Google within minutes.  So go ahead and give it a try. We have made it easy for you. All you have to do is fill in the fields for each area and submit. If you need help with the release you can always contact us directly and we will walk you through the entire process. Remember, it is a social media press release so share, share, share
Want to learn more, then listen to my radio interview with Dale Litte on Blog Talk Radio
About