Horizon Marine Construction In High Demand as Hurricane Preparations Begin
Industry: Construction
Horizon Marine Construction Offers Large Steel Sheet Pilings In Bulkhead Construction
Houston, TX (PRUnderground) April 8th, 2015
Marine construction and demolition's leader, Horizon Marine Construction is taking bulkhead construction to new heights, literally. With the 2015 hurricane season right around the corner precautions and safety measures are in full swing. The Gulf Coast is unique in that we share our coast across residential, industrial and commercial structures, side by side, sometimes. Being able to complete projects in all three factions requires a level of experience, dedication, knowledge and professionalism that HMC has earned over the years.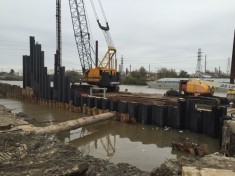 Horizon Marine Construction can make and install new bulkheads, add them onto existing structures, or build them specifically to reclaim land lost to erosion. The size of steel sheet pilings they use in bulkhead design and instillation can be used for the biggest projects. In fact there is no limit to how big the steel sheet pilings can be. Their latest large commercial bulkhead was for Spitzer Industries and was 50 feet high coated steel H2607, and 200 feet long. HMC is known not only for bulkhead projects, but both land and marine demolition and removal. They specialize in industrial, commercial and residential construction and repair of new and existing marine structures such as: boat docks and houses, piers (both private and public), bulkheads, fender systems, pile driving and removal, and marina construction. HMC has the knowledge and experience with the variety of permits required, special equipment, coastal property hazards, erosion prevention and flood precautions to ensure your job is done correctly and adheres to all standards set forth by the Army Corps of Engineers and other government entities. Horizon Marine Construction is known, industry wide, for their professionalism and commitment to excellence. Working on marine projects near the water requires special equipment, certifications and precautions, all of which HMC has mastered.
While HMC can customize your bulkhead with wood, concrete, or vinyl, their ability to work with the largest steel sheet pilings available make them the go-to choice for steel bulkheads, on the Gulf Coast. For more information call 281-307-3207 or email mark@horizonmarineconstruction.com.
About Horizon Marine Construction
Industrial, residential and commercial marine construction and demolition services. These services include, but are not limited to, bulkhead, marinas, piers, riprap, docks, boat houses, fender systems, pile driving and removal, steel sheet pilings, and breakwater and erosion control.