Heavenly Smooth Brings Sustainability, Luxury and Health Benefits to Chocolate
Industry: Chocolates & Candy
Made with rich cocoa content and organic coconut oil – widely-known to boost metabolism – the luxury chocolate also supports the International Rescue Organization.
New York, NY (PRUnderground) January 6th, 2015
Ascend into sumptuous chocolate bliss with Heavenly Smooth Organic Chocolate Truffle Bars for a blissfully tasty experience any time of the day and for any occasion! Made from the highest quality ingredients, certified organic chocolate and just the right amount of organic virgin coconut oil, Heavenly Smooth Bars deliver a unique, creamy and satisfying chocolate experience with added benefits that are good for your health, not to mention a robe of dark powdered cocoa that's good for the taste buds.
Unwrap heaven any time of day with Heavenly Smooth Organic Milk Chocolate Truffle Bars. Featuring tantalizing varieties like Milk Chocolate Truffle, delicious Almond and yummy Granola, they're a heavenly experience that will leave mouths watering. Enjoy as a mini break from the day, or pair with light bodied wines or a distilled French brandy for a luxurious treat.
Who says heaven can't have a dark side? Heavenly Smooth's Dark Chocolate Truffle Bars aren't just delectable, but are a true indulgence that chocolate lovers will adore. Made from a deep base of 55% and 72% cocoa mass and with ingredients you know, luscious flavors like mint, coffee and rich dark, these wonderfully smooth and deep delights that pair beautifully with an Italian Amorane, Spanish Roja, French Bordeaux or a stolen moment.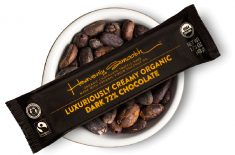 Don't just eat heavenly, do some heavenly good with Heavenly Smooth Organic Milk Chocolate Truffle Bar with Hazelnuts. A creamy combination of premium organic milk chocolate, organic virgin coconut oil and organic roasted hazelnuts, it's an irresistible treat that benefits an irresistible cause.
With every milk chocolate and hazelnuts bar sold, Heavenly Smooth donates 25 cents to The International Rescue Committee which responds to the world's worst humanitarian crises by helping affected people survive and rebuild their lives. At work in over 40 countries, and in 20 cities in the U.S., IRC leads the way from harm to home through life-saving care and life-changing assistance. Chocolate and hazelnuts? What a wonderfully delicious way to help do some real good. Information: International Rescue Organization www.rescue.org.
Unlike other chocolate bars, Heavenly Smooth bars contain ½ tbsp. of organic virgin coconut oil. Rapidly becoming an essential dietary supplement for health-conscious, active individuals, virgin coconut oil is beneficial for maintaining energy and boosting metabolism. Plus, it contains special fats called medium chain triglycerides (MCTs), which have been shown to help the body to burn energy more efficiently, and include a high level of lauric acid, which is a natural compound to support immune system health.
All of Heavenly Smooth's cocoa beans are carefully grown and selected by certified organic farmers who use no chemicals or pesticides. In fact, Heavenly Smooth organic chocolate bar ingredients are certified organic, gluten free and Fairtrade in order to provide a premium chocolate experience and support better lives for cocoa farming families through fair prices and environmental stewardship. The result is a creamy smooth chocolate truffle bar with an intense chocolate flavor, velvety texture and unforgettable smoothness.
Made with organically-grown virgin coconut oil from the Philippines and cocoa beans grown in Central America by certified organic farmers, Heavenly Smooth also supports sustainable farming. Providing an intense chocolate flavor with a velvety texture the gluten-free chocolate truffle bars are sold 12 in a box or by the bar. In addition to the Savory Hazelnut chocolate bar flavors include, Deliciously Creamy Organic Milk Chocolate, Creamy Organic Milk Chocolate with Crunchy Almonds and Creamy Organic Dark Chocolate with Refreshing Mint. The bars also come in Creamy Organic Dark Chocolate with Delicious Coffee and the Luxuriously Creamy Organic Dark 55% and 72% Chocolate bars. Rounding out the eight offerings is the Creamy Organic Milk Chocolate with Yummy Granola. This bar contains gluten-free rolled oats, roasted almonds, clover honey, sea salt and chia seeds for the supremely health conscious chocolate lover.
About Aecetia
Aecetia is a specialized company that manufactures and provides the marketplace with Heavenly Smooth, a high-quality chocolate truffle bar line made only with organic and natural ingredients. Sold in a variety of flavors, Heavenly Smooth is made with organic virgin coconut oil to assure a luxurious texture and added health benefits. Aside from the fact that each of our products are certified organic, Gluten-Free and supports Fairtrade our chocolates also benefit good causes. Learn more about Heavenly Smooth by visiting www.heavenlysmooth.com.