Hannum's Harley-Davidson Kicks-off Spring Riding Season with Garage Party for Women
Industry: Motorcycles
Get your motor running ladies. Hannum's Harley-Davidson's Garage Party inspires women to jumpstart their motorcycle riding dreams.
Sellersville, PA (PRUnderground) April 3rd, 2015
On Thursday, April 16 (6-9pm), Hannum's Harley-Davidson of Sellersville (3255 State Road) will host a Garage Party, a free event geared toward women interested in learning to ride and current riders wanting to know more.  This entertaining and educational Girls Night Out offers an intimidation-free zone for women looking to fulfill their motorcycle dreams. With live entertainment by DJ Drew, cocktails and desserts – it's sure to be a good time.
There are nearly 4.5 million women in the United States who say they dream of owning a Harley-Davidson motorcycle.  Women are getting into motorcycling faster than men these days.  Female ridership has jumped 60% in the past five years – and 14% of new Harley-Davidsons motorcycle buyers are women.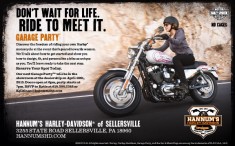 "Garage Parties can be a life-changing experience for attendees. They offer women a no-pressure opportunity to learn, socialize, ask questions, and hopefully jumpstart their own motorcycle dreams," said Tonda Hannum DiPasquale, co-owner Hannum's Harley-Davidson.
Let's Party – the plan:
"Motorcycle Orientation" is a basic introduction to the motorcycle controls, as well as all of the models in the Harley-Davidson family.
"MotorClothes Gear" to discover the important attributes needed in head-to-toe motorcycle gear, from helmets to protective leather to proper footwear.
"Motorcycle Fit and Function" to learn how to customize a motorcycle to reflect a rider's personal style and ergonomic needs.
"Bike Life" is a hands-on demonstration that proves that picking up something big – even a Harley-Davidson – isn't as hard as you might think.
"Jumpstart"  is an opportunity for attendees to take control of a fully functioning Harley-Davidson motorcycle – the stationary bike is secured to a platform so attendees can hop on, start the engine, and feel what it's like to shift through the gears.
"Experienced Rider Corner" – already ride?  Want to learn more? This stop offers tips on maintenance and safety checks.
RSVP to Katie Giltinan 610-566-5562 or Kgiltinan@hannumshd.com.
About Hannum's Harley-Davidson
About Hannum's Harley-Davidson
Hannum's Harley-Davidson has been a family-owned and operated business since it first opened its doors on Chester Pike in Crum Lynne in 1954. As the business expanded, the store was relocated to its current location in Media in 1959; followed by one in Chadds Ford in 2000 and in Sellersville in 2015. Family truly is at the heart of Hannum's Harley-Davidson. Tom Jr. was an avid racer and motorcycling enthusiast with a great respect for the American iconic brand, Harley-Davidson. Over the years he passed this passion on to his wife Rita and two children, Tonda and Tom III. All are actively involved in all aspects of the business today. Along with their talented staff, the Hannum family continues to serve the area with exceptional customer service while maintaining their standing as one of the largest H-D dealerships in the nation. Known for their huge selection, Hannum's has over 500 new Harleys in stock as well as plenty of pre-owned models to choose from. For more information about Hannum's Harley-Davidson visit www.hannumshd.com.