Gruppo Epifina Celebrates Release of their Highly Anticipated Check-In Mobile Application
Industry: Mobile Apps
Gruppo Epifina LLC, an industry leading sales & technology firm specializing in mobile app creation and distribution, announced the release of their first app, Check-In.
Palm Beach Gardens, FL (PRUnderground) January 26th, 2015
Today, Gruppo Epifina, LLC, an industry leading sales & technology firm specializing in mobile app creation/distribution, announced the release of their first app, Check-In, in the Apple Store and Google Play (Android Store) to rave reviews from customers and industry analysts. With sales forecasts in the half-million range by analysts based on current sales trends, Gruppo Epifina is off to a tremendous start in the emerging mobile market.
The Check-In app, which works for both iPhone/iOS and Android devices, is a unique, sleek app that allows users to:
Quickly text friends, family, and colleagues a pre-formatted or custom message that they have arrived at their destination safely.
Send a quick Emergency Text Message with an Urgent Help notice and info on where you are located
The Check-In app is available for $1.99 and is being released in several languages over the coming months. Check-In's development work was awarded to NeedtobeMobile, LLC, an award winning firm in Nashville, TN.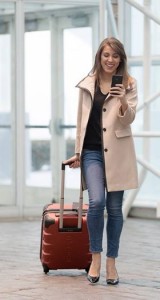 We had a chance to hear from Pat Fetizanan, CEO of Gruppo Epifina, leading up to Check-In's release and Pat shared the evolution behind the idea and his vision for the future, "As a business traveler for work and an avid mountain biker, I realized there is a constant need to reach out to my friends or family to let them know my location. We developed Check-In with the key value drivers of ease of use and location data in a clean format." Users can send a message which includes a hyperlink to a phone's map application to the receiver of the message, which the receiver can then quickly use to locate the party "Checking In" if they need directions or want to look at nearby spots on the map.
Pat partnered with Rey Patriarca, VP of Sales & Marketing, and Elizabeth Smith, Spokesperson, to complete his core team at Gruppo Epifina. They plan on releasing several apps in the coming months with initial sales being driven by Check-In.
Frequent flyer Jeff Stevens of Jupiter, FL praised Check-In's simple but efficient features, "I travel over 200 days a year and Check-In makes my life simpler by allowing me to instantly text my family letting them know I am safe and my location. Prior to using Check-In, I had to take 7 or more steps in my phone to get the message out while running through airports. Check-In has made my travel updates to my loved ones incredibly easier."
We plan on checking out the Check-In app this week and are excited to see the next steps for a company showing great potential and a product that has consumers raving.
About Gruppo Epifina, LLC
Founded in 2014, Gruppo Epifina has established a firm presence in the mobile app market by cutting straight to the core of what their customers want. Their mobile offerings combine expert industry and sales knowledge, insight into consumer value, and cutting edge user friendly design.