GroupHelix Announces a Custom App for Facebook Giveaway Contest
Industry: Custom Facebook Apps, Giveaways, Small Business CRM
GroupHelix announces a Custom App for Facebook Giveaway Contest. A custom splash-page app uniquely designed for each winner and four winners will be selected. Visit www.facebook.com/grouphelix.
Chicago, IL (PRUnderground) October 27th, 2011
GroupHelix announces a new opportunity for companies to win a complimentary custom App uniquely built for their business Facebook page.   GroupHelix, www.grouphelix.com  is a web-based all-in-one lead generation and customer relationship management (CRM) platform.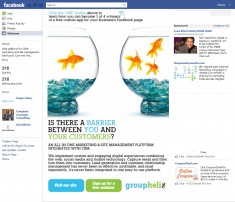 Four total winners will be selected at random for the contest.  Winners will be announced every 2 weeks for the next 2 months.  For information to register, simply go to the GroupHelix Facebook page, www.facebook.com/grouphelix and "Like" the page or www.grouphelix.com/register.
Fortune 100 companies such as Starbucks and General Electric have a similar custom Facebook presence.   Think of it as a mini-app within Facebook that lets users know about their brand and gives them a reason to "Like" a page.  Once they like a page, they get access to certain news, promotions or special offers and that drives leads back to the company website. This is one of the most effective lead-generation tactics that's being underutilized by businesses.
As an all-in-one digital platform, GroupHelix helps companies control their digital world by attracting new leads to their custom-created website, converting leads into clients, and managing and analyzing customer relationships.  By intertwining the web, social media and mobile technology, GroupHelix offers custom solutions and strategy uniquely fit to the needs of each client.
With a simplistic control panel, clients control their website content with a few clicks, they can change their mobile content in less than 10-seconds, they control how to get their leads online, monitor the competition, manage their marketing and customer relationships and measure engagement with click-of-a-button analytics.
About GroupHelix:
GroupHelix is a product of Duple Meter, LLC based in Chicago's John Hancock building.  Originally formed in 2008, Duple Meter was created as a technology platform for music schools, organizations and educators.  Duple Meter, LLC later introduced SocialRaise, a platform for non-profits and associations to combine social media with ways to increase organizational revenue.  The methodology at GroupHelix and for all Duple Meter products and services is simple; engagement drives action and results.
For more information or to request a demo visit www.GroupHelix.com.
Contact:
Amy Nedoss
312.330.1798
Amy.Nedoss@GroupHelix.com
About