Greensations Coconut Oil Dental Care Garners Big Sales as a Fluoride Alternative
Industry: Health and Nutrition
After launching the world's first coconut oil toothpaste earlier this year, the new Cocodent brand from Greensations is garnering big sales as a fluoride alternative.
Schenectady, NY (PRUnderground) November 18th, 2015
Earlier this year, Greensations launched the world's first commercial coconut oil toothpaste under their new Cocodent brand. Within 3 months, this innovative coconut oil toothpaste sold more than 10,000 units in limited distribution channels including Amazon, eBay, Bonanza and the official Greensations website. Thanks to that success, Greensations quickly followed up with Cocodent tooth spray and earlier this week they released a new antibacterial tooth oil, further expanding their family of coconut oil based natural oral care products.
"Cocodent has become our third best-selling brand, just behind Sinus Plumber and Acne Killer. We expect Cocodent to become our number one selling brand by the end of 2016 based on the past 12 months of growth and the fact that consumers are clammering for natural dental care alternatives to traditional fluoride and chemical based products," says Wayne Perry, founder of Greensations.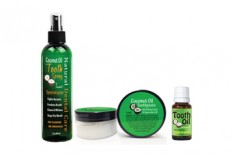 Coconut oil has been hugely popular over the past few years for all kinds of health issues, but perhaps the most innovative use is for dental care. Studies show coconut oil is hugely beneficial for teeth and gum health due to its' natural antibacterial properties, but Cocodent is the first brand to exploit these benefits.
In 2012, researchers at Ireland's Athlone Institute of Technology tested the biocidal properties of coconut oil against the bacteria that causes tooth decay. Those scientists discovered that enzyme-modified coconut oil strongly inhibited the growth of most strains of Streptococcus bacteria – including the bacterium that's mostly responsible for tooth decay.
Greensations is leading the way with the world's first coconut oil dental care products under their popular Cocodent brand. Samples are available for qualified dental, medical and media personnel upon request. For more information visit Cocodenttoothpaste.com.
About Greensations
Founded in 2009 as a division of GSC Products, Greensations is known for creating innovative natural health and beauty remedies in a variety of categories. Greensations manufactures dozens of natural health and beauty products under 13 brand names. Their brands are sold in thousands of retailers and have been featured by Dr. Oz, The Doctors, Good Housekeeping, NY Times and more.