Graniflex System Awarded Most Innovative Product at World of Concrete
Industry: Construction
The Graniflex product system has been honored as Most Innovative Product (MIP) by concrete industry experts.
Ohio, USA (PRUnderground) March 6th, 2015
The Concrete Protector is excited to announce that its Graniflex product system has been honored as Most Innovative Product (MIP) by industry experts. Held annually at World of Concrete, the industry's only annual international event dedicated to the commercial concrete and masonry, the MIP Award Program showcases products that will transform the concrete industry. Graniflex received the Industry Choice MIP in the Decorative & Concrete Surfaces category.
The MIP Program allows attendees and readers of Concrete Construction, Masonry Construction, The Concrete Producer, and Concrete Construction Products a chance to vote for the products they judge as innovative. A panel of industry experts, many of whom serve on the World of Concrete Educational Advisory Board, reviewed and selected MIP award winners.
Graniflex Flakes/Quartz Broadcast System is a decorative, high-strength concrete resurfacing system. It is used for environments requiring an attractive, high performance floor or when a concrete floor needs the protection of a moisture controlling system. This fast-setting "bond-like-crazy" flexible membrane is quickly becoming one of the most sought-after coatings on the market today.
The GraniFlex system features:
Fast installs!  After preparation, ONE DAY from base coat to top seal coat.
Stress-free applications!  Just the opposite of epoxy with a long, long pot life that allows contractors to LEAVE the product in the bucket and work with it at their own pace.
"Flexible Penetration Technology" Cures as tough as a truck tire INSIDE concrete.
Permanent Flexibility!  Never gets brittle with age.
100% CRACK PROOF options!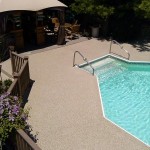 Perfect application for pool decks, driveways, sidewalks, patios, porches, garage floors, basement floors, kitchen areas, restrooms, living areas and more. Useful for both exterior and interior projects!  1000's of PERMANENT colorful chip combinations. The look of Granite or Quartz flooring on any surface!
With unlimited color options, the Graniflex color flake or quartz decorative broadcast system excels where other broadcast systems cannot. Epoxy or polyaspartic systems simply do not work for extended periods of time on exterior applications and often fail because they can't hold back the vapor pressure exerted on them in an outdoor setting. The same thing goes for many basement floors or other areas where moisture vapor pressure is an issue.
About The Concrete Protector
The Concrete Protector is the decorative concrete industries most trusted supplier of products, equipment and training to protect, repair and design concrete. Our goal as a Decorative Concrete Supplier is to ensure that every product we distribute is professionally and carefully DELIVERED and installed.Don\'t leave your next job up to chance! Success in installations come through dealing with a well executed plan. Get results you can depend on through our quality products,tech support, and hands on training.