Globally Good™ Cyber Sale On Amazon For Silicone Cupcake Liners
Industry: Cooking
Californian-based Globally Good™ is having a Cyber Sale on their eco-friendly, silicone cupcake liners this week.
Los Angeles, California (PRUnderground) December 5th, 2014
Californian-based Globally Good™ is having a Cyber Sale on their eco-friendly, silicone cupcake liners this week.  Increasing in popularity, silicone bake ware not only makes for even baking, but also contributes to a cleaner environment, as traditional paper cupcake liners are being replaced.
You can head over to Amazon to get your set now for only $6.99, and as a free bonus they are including a recipe eBook.
Not only are these cupcake cups eco-friendly, but they are user friendly as well.  Unlike conventional paper liners, the reusable cups are sturdy and can simply stand on a cookie sheet without the sides flopping over when they are being filled.  No more rusty clunky cupcake tins that take up loads of space and that always end up inconveniently at the very bottom of your kitchen ware when you need it.  Not to mention the frustration of running out of paper liners in the midst of a baking session.
In addition to how easy they are to use, these modern alternatives to paper liners are reusable, can last for years as they are durable and are easily washable either by hand or in the dish washer.  For easy access when needed, stack and store them in the accompanying container that can hold a dozen liners.
Due to its versatility, these liners are not just used for baking cupcakes, muffins and other goodies in the oven, but may also be applied for an array of uses in the fridge or freezer from ice-lollies and jelly treats for children, to frozen desserts, chocolate, candy and the many different treats that can be made in a cup.  With such variety, one will certainly spend less time, wondering what to make for the next upcoming birthday party, office party, baby shower, the holidays or any other occasion that requires snacks.
Available in a variety of bright colors such as pink, orange, yellow, green, blue and purple, these liners make for excellent gifts for friends and family.
Other features of these non-stick cupcake liners include the fact that it releases food easily, without breaking it and having pieces stay behind.  The FDA approved silicone, is BPA free, which makes it safe to use for cooking.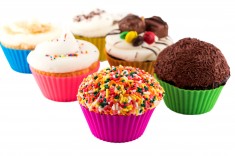 Withstanding heat up to 450°F, they can be used in the microwave, as well as the oven and with silicone's heat distributing quality, it ensures for a more even bake.  Silicone's ability to stop cooking immediately, also attributes to even baking.
Whether you are a baker, a chef, a mom or simply an interested onlooker curious to try, these exciting silicone cupcake liners are guaranteed to make life in the kitchen, a whole lot easier and much more fun.
Based on the outskirts of Los Angeles in California, Globally Good™ are the suppliers of high-quality household and lifestyle products intended to simplify the lives of people on the go, with convenience as the main focus.
The founders of the company believe in doing good deeds unto others and subsequently provide contributions and support to communities, organizations, charities and causes globally.  Not only is financial assistance provided, but also time and effort as they are advocates to several of the abovementioned entities.
About Globally Good
Globally Good™ is based just outside of Los Angeles, California. They provide customers with high-quality home and lifestyle products that focus on bringing efficiency to those with busy lives. In addition they are advocates for numerous charities and organizations around the world.