Global Moringa Meet 2015 discusses the Moringa Nutrition -Enhancing Agriculture and Food System
Industry: Health and Nutrition
3rd Global Moringa Meet an international workshop, promises to be an important event in exploring best production,horticultural ,& harvesting practices & best value adds
Jaipur, India (PRUnderground) August 10th, 2015
"Nutrition-enhancing" are approaches that address the underlying determinants or basic causes of malnutrition. Nutrition-enhancing agriculture and food systems are those that effectively and explicitly incorporate nutrition objectives, concerns and considerations, improve diets and raise levels of food and nutrition security. Actions may include making more nutritious food more accessible to everyone or to specific targeted groups, supporting smallholders and boosting women's incomes, ensuring clean water and sanitation, education and employment, health care, support for resilience and empowering women in a deliberate attempt to explicitly improve diets and raise levels of nutrition.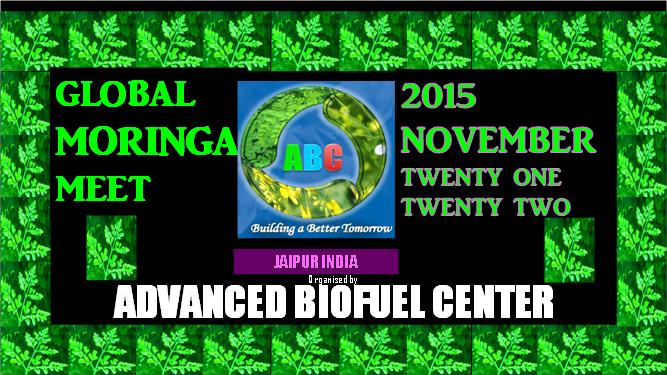 Moringa Oleifera , an Indian origin plant has gained its importance due to nutraceutical values and is considered as indispensable plant for health management. It is one of the most incredible plants to the mankind as its nutritional and medicinal properties have immense potential to manage malnutrition and prevent and heal many maladies. On realizing the potentiality of moringa as a nutritional security provider and the high value energy crop, much importance is attached globally, Global Moringa Meet 2015 an international Workshop presented by the ADVANCED BIOFUEL CENTER, promises to be an important event in exploring best production practices, best horticultural practices, best harvesting practices and best value addition, to be held November 21-22, 2015 at Jaipur India, is a "must attend" for all stakeholders to know the  latest research and development activities and to reap the fullest potential of Moringa .
Food-based approaches recognize the central role  of Moringa in improving nutrition. Moringa Agriculture and food-based strategies focus on food as the primary tool for improving the quality of the diet and for addressing and preventing malnutrition and nutritional deficiencies. The approach stresses the multiple benefits derived from various part of Moringa, a variety of foods, recognizing the nutritional value of food for good nutrition, and the importance and social significance of the agricultural and food sector for supporting rural livelihoods. Inclusion of Moringa farming and food system in existing system of agriculture and food may ensure that nutritional well-being and health of individuals is promoted, incomes and livelihoods supported, and community and national wealth created and protected.
Moringa Oleifera of the family Moringacea, referred as Moringa or drumstick, has attracted the attention of scientists across the globe for health management due to its high nutraceutical traits. Thus, it is emerging as future crops considering its wider adaptability and tolerance to many abiotic stresses. Accordingly, it became essential to take stock of knowledge and develop a road map to harness its potential for benefit of mankind. Therefore, Moringa India has all set to hold 3rd Global Moringa Meet 2015 from November 21-22, at Jaipur, India  This Moringa Meet aims to stimulate a discussion on the burning theme of "Moringa Agriculture for sustainable growth: challenges and opportunities for a new 'green revolution'?  This meeting assumes much greater significance now to understand the crop and devise a mean for harness its potentiality.
Moringa is a genus of shrubs and trees with multi-purpose uses: its leaves, roots and immature pods are consumed as a vegetable. All parts of the moringa tree – bark, pods, leaves, nuts, seeds, tubers, roots, and flowers – are edible. The leaves are used fresh or dried and ground into powder. The seed pods are picked while still green and eaten fresh or cooked. Moringa seed oil is sweet, non-sticking, non-drying and resists rancidity, while the cake from seed is used to purify drinking water. The seeds are also be eaten green, roasted, powdered and steeped for tea or used in curries.
Moringa  oleifera  cultivation  and consumption of various Parts  of this crop like leaves and pods,  enhances the nutritional status of human being. The following nutrients are present in this crop.
Moringa leaves are having 40% of protein with all the nine essential amino acids
The amount of Beta carotene , vitamin C and vitamin E found in moringa exceed those amounts commonly found in other  plant parts.
Beta carotene (Pro vitamin A) moringa  leaves contain beta carotene than carrots about 3 to 5 times are more. Vit. A is the most important vitamin for immune protection against heart disease and keep  harmful  lipoprotein containing cholesterol from damaging heart.
  Vitamin C Just one ounce of Moringa leaves contains the daily recommended  amount of Vitamin C.
Vitamin E is a potent anti oxidant that helps prevent premature ageing and degenerative disease including heart disease, arthritis, diabetes and cancer.
Vitamin B1 is the vital for production of energy in each cells and it plays essential role in the development of carbohydrates.
Vitamin B2 (Ribo flavin) also present in moringa leaves.
The two-day annual Moringa Meet focused on Moringa  agriculture issues such as new seed traits, pest management, value-added grain opportunities, Crop sustainability,  post harvest  issues, as well as a presentation on the processing marketing of various Moringa Products
Our overarching goal is to provide participants  attending moringa meet with a unique opportunity to interact , discuss and deliberate with their peers and with top researchers in the Moringa Science and technology to create a successful Moringa Business.
The objective of the Global Moringa Meet 2015  is to facilitate a better understanding on the nature and prospects of 'Moringa green revolution' globally, drawing on the insights from experiences around the world, to foster dialogue among young and experienced researchers , experts, practitioners  and various government organizations who are working towards making their respective region more sustainable in agriculture and food security.
while talking on the agenda of forthcoming Global Moringa Meet Mr. Dp Maharshi stated "We invite you to share evidence and exchange views on how to improve Moringa  food systems more responsive to nutrition i.e. raising levels of nutrition, particularly of the poorest and most nutritionally vulnerable, as well as ways to improve value addition and evaluation of their impact and cost-effectiveness will be sought"
"Our Next Global Moringa Meet in India on 21-22 November, 2015 is all set to introduce you the real world of Moringa business" where the attendees shall also have the opportunity to interact with the science, agronomy and their cultivation technology etc. of Moringa and value additions. The registration is open".  He added.
"We hope that you will be able to join us for this meet and help us to make it a vibrant success!" He further added
Moringa India will also be showcasing its latest integrated moringa farm development process knowledge system In addition, there will be live and hands-on demonstrations of Moringa nursery, plantation, oil extraction etc. at Moringa farm and at R & D center.
Throughout the two day Meet, attendees will know and learn insights and best practices with world top Moringa Scientists and experts, which can positively impact the bottom line of the organizations/ companies attending.
Based on past experience, this event attracts attendees from the USA, African Countries, Continental Europe, UK, Americas and Asia.
This is a NOT to be MISSED Opportunity to new growers to start MORINGA BUSINESS
Seize this opportunity to begin business with Moringa and REGISTER Today
Please Pre-register here for further details and obtaining registration form.
DP MAHARSHI, Moringa India
President
Advanced Biofuel Center
About Advanced Biofuel Center
Advanced Biofuel Center (ABC) conducts advanced multi-feedstock research in the industry's non-food energy farming crop improvement programme and addresses the complete value chain. As a producer of proprietary seeds, ABC is in the most attractive segment of the biodiesel value chain — upstream from the capital intensive refining and conversion of biodiesel.
ABC's goal is to triple dedicated biodiesel crop yields within 10 years, increase the oil content to 48% and, in combination with other crops, target an oil yield that is 1500 gallon per hectare. Researchers also hope to increase the quality of the oils and other products produced—while minimizing inputs including pesticides and fertilizers.
At ABC, the dedicated biodiesel crop curcas plants' biology and genetic profile have been subjected to intense scrutiny, as molecular and genetic scientists collaborate with agronomists to breed and develop cultivars suitable for large scale fuel farming. Traditional breeding, inter-species hybridisation, genetic modification, and advanced cloning techniques are all being applied to produce new commercial cultivars.
Enhanced cultivar and seeds
After 11 years of continuous research and experiments in cultivating and breeding dedicated biodiesel crop curcas and other biofuel crops, ABC has developed a systematic breeding and cultivar development strategy. Newly bred cultivars are extensively tested in multi-location trials and true to type seeds are being produced using the organization's improved seed product line. Improved seeds result in greater yield, uniformity and vigour while significantly reducing plantation costs for growers. JCLMax3, MOMAX, DI03SAP etc improved varieties have been tested and developed for a range of climatic and soil conditions.
ABC's dedicated biodiesel crop agronomy knowledge platform focuses on 'plantation technologies' and has run an agronomy research programme alongside the breeding programme that looks into all agronomy issues.ABC further share and distribute its knowledge and expertise through its knowledge arm Biodiesel Business Academy
ABC scientists are continuously working on enhanced genetics, agronomics and horticulture sciences to drive new varieties, more knowledge around the plant's nutritional requirements and more science-based processes for the care and custody of the plant.
Balancing resources to create a sustainable long-term solution without harming the environment is the challenge. The focus must remain on balancing the three major areas—genetics, agronomics and horticulture practices—so the plant will grow with optimal productivity.
We are confident that scientific advancements can demonstrate, preserve, and enhance biodiesel\\\\'s ability to help meet the food, feed, fiber, and energy needs of the future.
We have a state-of-the-symbolization base that is generally outfitted with cutting-edge innovation based apparatus and world class conveniences. We have isolated our office into numerous divisions to guarantee that greatest conceivable operational proficiency is accomplished.
ABOUT MORINGA INDIA
Moinga India is making huge efforts, experiments, research to harness the harnessing the "superfood" powers of Moringa oleifera, a drought-resistant tree native to North India and widely used throughout the topics for in solving this global problem. Moringa shows great promise as a tool to help overcome some of the most severe problems in the developing world—malnutrition, deforestation, impure water and poverty. The tree does best in the dry regions where these problems are worst. Green leafy vegetables and fruits supply much needed essential micro-nutrients like beta-carotene [vitamin A], vitamin C, folic acid, and also calcium and potassium. Moringa leaves in particular are a rich, inexpensive source of micro-nutrients. Although few people have ever heard of it today, Mission Moringa India is to establish the Moringa to become one of the world's most valuable plants, at least in humanitarian terms Moringa India has been formed to identify the factors limiting the adoption and use of the Moringa Tree for Agricultural Development for Producing Biodiesel and to explore the important role Moringa play in the lives of rural people and the global economy deliberating advancement of existing and future agricultural development projects. It's experience, expertise, and views about Moringa and its use for agriculture development for the purposes of reducing hunger and poverty and formulate strategies for developing moringa failsafe farms and also helps new growers to have holistic information on moringa crop with academic research activities in Agronomy, Horticulture, and Biology, industrial practices in biofuels , Marketing and Financial aspects of Moringa commercialization. It will be a great pleasure to share the up-to-date advances in both fundamental researches and engineering practices, and to project the areas where we may contribute to to harness the full potential of moringa for betterment of people and planet Moringa India is one of the largest growers of Moringa Oleifera and maintains Moringa farms in scientific manner. With its extensive experiences in the field, enhanced technology, plant science & professional knowledge, effective consulting service and business intelligence, Moringa India has developed a set of tools/service to develop Moringa business from soil to superfood, from farming to fuel