GerMedUSA, NEW Atraumatic Extraction Kit
Industry: Medical
This HYBRID of a periotome, a luxator, and an elevator allows you to penetrate deep into the PDL and elevate the root surface with one tool.
Garden City Park, NY (PRUnderground) June 24th, 2015
For decades, GerMedUSA has manufactured and sold high quality medical instruments while providing top customer service. Our quality begins with our master craftsmen, many of whom have been working at our state-of-the-art manufacturing facility for twenty years, forging and manufacturing each tool to GerMedUSA's exact specifications. These years of industry know how have allowed us to produce our instruments with a unique and unmatched level of excellence while also keeping our prices competatively low.
Along with our wide range of surgical and veterinary supplies, the past few years have been spent perfecting our current dental line. One of the new products that we're introducing is the Anglevator, which we presented at the CDA trade show in California last month and at the FDA show last week. Designed by Dr. Eric Schuetz, this hybrid of a periotome, a luxator, and an elevator allows you to penetrate deep into the PDL and elevate the root surface, giving you the control you need to perform a complete Atraumatic extraction.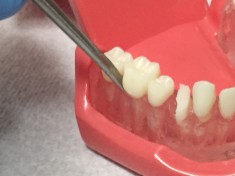 The Anglevator kit includes three sizes- a right angle, a left angle, and a straight. The 3mm right and left angled instruments are the workhorses of your kit. They are used in every extraction procedure and are truly the Swiss Army Knife of oral surgery. The 5mm straight tool has a wider blade that tapers to a fine, pointed edge. It can be used anywhere you need more leverage or torque and is especially effective in large bony defects. Along with our full video presentation located on the right side of the screen, Dr. Schuetz has uploaded a number of real time extractions on his YouTube page under Anglevator.
Additional Information
Our full line of dental products available on our website, www.GerMedUSA.com, which is constantly being updated with new products and information. Please feel free to contact us at any time with additional questions about the Anglevator or anything else. If you need something that isnt listed on the website you can call or e-mail us with your request and we'll do whatever we can to manufacture or provide it for you.
About GerMedUSA, Inc
GerMedUSA manufacturers fine line quality surgical instruments for surgeons of various industries. Specializing in custom designing /modifying instruments to suite surgeons specific needs.