GerMed Atraumatic Extraction Kit Now Available at the California Dental Association BOOTH #2454
Industry: Medical
GerMedUSA Dental announced its new Dental Extraction Kit. The kit features 3 top-of-the-line Anglevators and 6 Forceps.
New York, USA (PRUnderground) April 28th, 2015
GerMedUSA Dental is introducing its special offer on our NEW Atraumatic Extraction Kit to our dentists at CDA.  "Our company has strived to give dentists the best possible experience with the finest surgical instruments on the market."
GerMedUSA Dental's Extraction Kit is now available at the California Dental Association, (CDA) at the Anaheim Convention Center, 800 W Katella Ave – Anaheim, CA 92802-3496. BOOTH #2454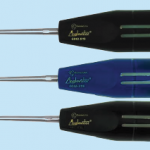 Kit Includes
Anglevators:  GerMedUSA Dental 3mm Anglevators are the workhorses of kits, they are used in every extraction procedure and in any situation, a true Swiss Army Knife of oral surgery.  The large 5mm Anglevator has a wider blade that tapes to a fine edge.  This is used anywhere you need more leverage or torque and is especially effective in large bony defects.
While traditional dental extraction techniques often result in fracture or deformation of the dentoalveolar housing.  These problems can be avoided with "atraumatic" extraction techniques.  The Anglevator can be used in any extraction procedure and is an effective device for expedient automatic dental extractions.
Forceps: All forceps are designed to penetrate into the PDL space and firmly grasp the root giving control of the extraction. (1) 150 – The universal forceps, great feel, great control, the ultimate in versatility.  (2) Mini 150 – Great for sectioned molars, root tips, tremendous strength for small forceps with superior control and ability to access difficult areas. (3) Bird Beak – Best for premolar to premolar, it gives you strength & torque when needed without sacrificing control. (4) Mini Bird Beak – Great for root tips, able to access small areas. (5) Cowhorn (23) – Designed to penetrate into the furcation to ease the tooth up and out. (6) 222 – For 3rd molars or posterior for patients who have limited opening, upper or lowers.
Availably: GerMedUSA Dental's New Atraumatic Extraction Kit is available now at CDA, BOOTH # 2454
Or online at http://www.germedusa.com/c-3960-new-extraction-kit.aspx
About GerMedUSA, Inc
GerMedUSA manufacturers fine line quality surgical instruments for surgeons of various industries. Specializing in custom designing /modifying instruments to suite surgeons specific needs.