G2 Crowd Fall 2015 Rankings Of Best Press Release Distribution Services Names PRUnderground.com High Performer, 3rd In Satisfaction
Industry: Press Release Services
PRUndergound.com named high performer in G2 Crowd Rankings Of Best Press Release Distribution Services
San Francisco Bay Area (PRUnderground) August 19th, 2015
G2 Crowd has just published their Fall 2015 rankings of the best press release distribution services, and PRUnderground.com was named a "High Performer", rated third in Customer Satisfaction only behind Cision and Business Wire.
The G2 Crowd Grid℠ report for press release distribution services, is based on G2 Crowd's aggregation of real, validated user reviews for each company, along with public market presence factors such as number of employees, social followers and age of company.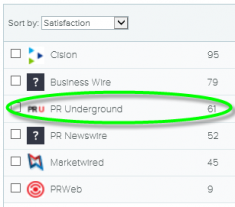 From the official G2 Crowd press release announcement: "Business Wire and PR Underground were named High Performers, earning strong customer satisfaction marks with smaller market presence scores."
"We are pleased that PRUnderground.com is included among the best press release distribution services in the world, and are very happy that high customer satisfaction ratings are what lifted our business to the top of the rankings" said Brian Scully, President of PRUnderground.com. "Since acquiring PRUnderground.com, the goal has always been to offer a compelling product at a fair price for small businesses and pr firms to quickly distribute their company news over the web and social media."
The Fall 2015 report is reportedly based on  over "380 reviews written by PR professionals, marketers and other business professionals."
About PRUnderground.com
Social media press release service PRUnderground.com provides clients with an affordable, direct, and fast way to distribute their news into search engines and social media. The next generation press release site is based in the Flatiron District of New York City and owned by Madison Square Ventures LLC.