Freight Trucking Company, A-1, Celebrates Record Growth, Bids Farewell to Retiring Team Member
Industry: Trucking
A-1 Freight Systems continues quarter-after-quarter growth, and wishes a 13 year shipping and transportation employee best wishes upon retirement.
Sandy, Utah (PRUnderground) September 10th, 2015
2015 has been a year of records for Utah-based freight trucking company, A-1 Freight Systems. The shipping and transportation company has added several new trucking brokers and freight broker sales representatives throughout the year. As new accounts keep coming in, the transportation brokerage also announces the retirement of a team veteran, Jerry Hodges.
Jerry Hodges has been with A-1 Freight Systems for 13 years. At the age of 73 years young, he has been a pride of A-1's freight broker company team. Manager, Kara Harris, comments on Mr. Hodges departure. "Jerry is an exceptional driver. Always has and always will be. He consistently delivered freight on time and always with a smile. He will be missed." She continues. "We're trying to talk him into only semi-retiring because we love him so much."
While Jerry's 1997 Peterbilt and 48′ Step Deck will be leaving with Mr. Hodges, A-1 Freight Systems has grown their driving team throughout 2015 to keep the growth momentum moving forward.
Hazmat certified drivers
Drivers with TSA clearance
California legal trucks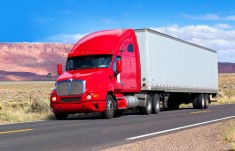 The volume of drivers is only half of the equation of A-1 Freight Systems' growth. The freight trucking company continues to expand their fleet, too.
2003 Kenworth
2005 Peterbilt
Multiple standard 48′ step decks for hauling larger equipment
Two 48 Flatbed trailers
53′ Step decks for specialized hauling
To learn more about A-1 Freight Systems' freight broker jobs or to get a shipping quote, visit a1freightsystems.com or call 1-888-752-2211.
About A-1 Freight Systems
A-1 Freight Systems is a full service freight brokerage that offers specialized hauling in the US and Canada. These shipping and transportation specialists provides excellent service to their customers and carriers through their dedicated fleet, and independent owner operators. A-1 Freight Systems also offers a very competitive Agent Development Program.