Free Taiko drumming lessons at FestivalAsia, largest London event of all things Asian
Industry: Music
Taiko West at London's first-ever FestivalAsia, for amazing free Taiko drumming lessons - Friday 15th to Sunday 17th May, 2015.
United Kingdom (PRUnderground) May 12th, 2015
Taiko West drummers are holding free drumming workshops at FestivalAsia, London's largest festival about all things Asian incorporating everything from food, fashion, music and performance to yoga, martial arts and meditation, which takes place at Tobacco Dock from Friday May 15th to Sunday May 17th.
The unique three-day spectacular of FestivalAsia boasts exhibitors and performances along with a cultural room, a spiritual room and children's entertainment. There is something to suit all tastes at FestivalAsia, which embraces the amazing diversity of Asian arts & cultures from some of the countries making up this intriguing and eclectic continent.
Taiko West was set up by James Barrow, who studied Taiko in Japan for four years. James co-led the UK's first hands-on drumming course which culminated in a performance at WOMAD. Players of high-energy Taiko drumming often report the experience as joyful, exhilarating and energizing, especially in a group setting. Research also points to improvements in health and well-being.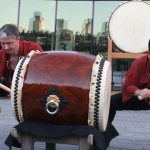 FestivalAsia's cultural and artistic highlights comprise top acts and sideshows spanning a wide range of Asian music, dance and martial arts, alongside presentations from ambassadors heralding from several Asian countries. This pioneering three-day event is set to attract thousands of visitors who can expect to experience an inspirational pan-Asian mix under just one roof, certain to enlighten, educate and entertain.
FestivalAsia is created and produced by Lilisan Ltd, in collaboration with Barley Arts International Ltd.
Lycamobile is proud to be the official sponsor of FestivalAsia.
About World Concert Artists
World Concert Artists: International Entertainment Agency, Booking Agents for Artists, Shows, Exhibitions. Entertainment providers for Corporate Events & Private Parties, Booking for Festivals, TV and Special Events, Management.