Free Drawing to Win a Nintendo Wii Console at the Largest Mobile Food Festival in Northern California
Industry: Festivals, Food and Drink
Stitches 'n Dishes, a pioneer in mobile foods, will sponsor the Sacramento Mobile Food Festival (SactoMoFo) on December 3, 2011, providing a free drawing to win a Nintendo Wii Console, games and accessories.
San Francisco, CA (PRUnderground) November 22nd, 2011
Stitches 'n Dishes is California's only network of vendors, venues and their fans, providing news, schedules, reviews, high-quality photography, video and media coverage on its website. The blog site will sponsor SactoMoFo3, a full-day mobile food festival at the Farmers Market on 8th St. and W. St., in Downtown Sacramento, CA on December 3, 2011 from 11:00 a.m. until 6:00 p.m. Founders, Christopher Ford and Andrew Nicora announced that Stitches 'n Dishes will award a Nintendo Wii game console, including Super Mario Bros, Food Network's Cook or Be Cooked!, Order Up! and a Wii Cooking Set, a $250 value, in a no-purchase-necessary, free drawing.Stitches 'n Dishes will provide a seating area, including tables, as well.
Bringing together Northern California's best epicureans on wheels, SactoMoFo presents SactoMofo 3 in Downtown Sacramento. The single-day food festival that introduced the mobile food phenomenon to Sacramento brings its third and largest festival, featuring tantalizing cuisines by local food trucks and stands, as well as exceptional food trucks from one of the best culinary destinations in the country, if not the world – San Francisco.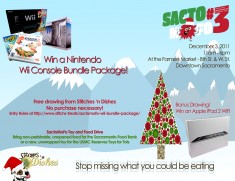 Hosted in the historic Southside Park neighborhood, Downtown Sacramento, more than 20 of Northern California's top chefs will converge at the popular Sunday Farmers Market under the overpass at W-X Streets, across from Southside Park. Entry rules for the drawing are located on the Stitches 'n Dishes blog site.
"We couldn't be more excited about this amazing event," said Ford. "The Food Truck Phenomenon has mesmerized people across the country. SactoMoFo broke the ice in Sacramento in April of this year, and the turn-out was astounding. Thousands of people attended. This event is twice the size, and boasts a spectrum of specialties."
The event will feature local, Sacramento chefs, as well as San Francisco Chefs, including Mini Burger, Drewski's, Chando Taco's, Wicked 'wich, Heavenly Dog's, Simply Southern Foods / It's Corn Cake, Cajun Wagon, La Peidad, Volkswaffle, Smoothie Patrol, Fuzion Eatz, LLC, Swabbies, Leila's Lumpia, Chairman Bao, Bacon Bacon, JapaCurry, Hapa SF, El Porteno, An the Go, Esther's Cupcakes and Seoul on Wheels.
Ford and Nicora will be joined by the blog's Editor in Chief, Rodney Washington to film the blog's next internet television show episode on location. "This will make a great episode for our new internet TV show," said Nicora. "It's the largest mobile food festival in Northern California, and SactoMoFo has some incredible chefs lined up."
Organizers for the event have arranged for Santa Claus and elves to make an appearance for photo ops, and they will announce additional activities in the next week.
SactoMoFo 3, benefiting the USMC Reserves Toys for Tots and the Sacramento Food Bank is a free event. Parking is also free. Attendees are encouraged to bring a new, unwrapped toy and/or unopened, non-perishable food items for the toy and food drives.
There is no purchase necessary to win the Nintendo Wii Console bundle package. Entry forms will be available at food vendors and at the Stitches 'n Dishes table. Participants who "like" the Stitches 'n Dishes Facebook page will be automatically entered in a free drawing to win an Apple iPad 2 WiFi.
About Stitches 'n Dishes:
Stitches 'n Dishes, the creation of Christopher Ford and Andrew Nicora, and inspired by "Stitch", an American Staff. Terrier mix / Bichon Frise, provides marketing, advertising and PR services to the mobile foods industry and it provides consumers with a single source for original articles, reviews, food photography, California fairs and events, discounts, contests and giveaways.
Stitches 'n Dishes is California's first provider of a platform that stitches a link between food lovers, entertainment venues and mobile food operators, and the first fully dedicated marketing, advertising and development resource available to food vendors in California.
Contact
Christopher Ford, Co-Founder
Stitches 'n Dishes
chris@stitchesndishes.com
916-612-9954
About