Franchise Gator Releases Fastest Growing and Top Emerging Franchises Lists
Industry: Franchise
Annual Top 100 Ranking Spotlights Best Buys for Prospective Franchisees
Roswell, GA (PRUnderground) January 26th, 2015
Franchise Gator today released two more Top lists, announcing its choices for the Fastest Growing Franchises and Top Emerging Franchises.
"The research that went into the Franchise Gator Top 100 identified two sub-groups that we felt should be highlighted," said Eric Bell, General Manager of Franchise Gator.  "For the Fastest Growing Franchises list, we identified 34 franchises based on the number of opening and operating units over the past several years.  Additionally, we feel these brands have been successful in building a solid customer base and gaining the trust of investors.  Therefore we feel this makes them sound investments for potential franchisees."
The Top Emerging Franchises list focuses on up-and-coming brands that represent solid buys for prospective franchisees.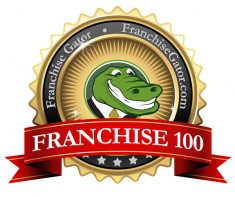 "Newer and less well-known franchises have to work hard to differentiate themselves from other brands," said Bell. "We believe that the 23 franchises we highlighted on this list have shown enough that they need to be a part of the conversation for those conducting a search for the right franchise opportunity."
The Franchise Gator Top 100 was created to help individuals interested in purchasing a franchise limit potential risks when searching for the right opportunity. The lists were developed with a focus on the average visitor to the Franchise Gator website.
"We understand that most potential franchisees aren't candidates for purchasing a $1 million business which is why we have identified opportunities we see as not only having strong growth potential, but are also more affordable investments for the average franchise buyer," said Bell.
To see the 2015 Top Emerging Franchises list, visit: http://www.franchisegator.com/lists/emerging/
To see the 2015 Fastest Growing Franchises list, visit: http://www.franchisegator.com/lists/fastest-growing/
About Franchise Gator
Franchise Gator, a unit of Landmark Interactive, a division of Dominion Enterprises, is the leading destination for those seeking to invest in a franchise opportunity. Since 2002 Franchise Gator and its network of sites have offered information on hundreds of business and franchise opportunities available in more than 100 industries. Franchise Gator provides franchisors with a quality, cost-effective mode of franchise marketing. For more information, please visit www.franchisegator.com.