Franchise Gator Names Fastest Growing and Top Emerging Franchises for 2016
Industry: Franchise
Annual Top 100 Ranking Identifies Best Buys for Prospective Franchisees
ROSWELL, GEORGIA (PRUnderground) January 25th, 2016
Franchise Gator has named the Fastest Growing and Top Emerging franchises for 2016 in conjunction with the release of its annual Top 100 ranking which aims to help potential franchisees identify opportunities with strong growth potential in the coming year.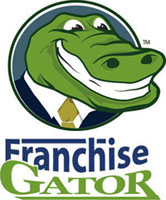 The online franchise directory selected 50 Fastest Growing brands, those experiencing rapid expansion, and 32 Top Emerging brands, up-and-coming concepts with approximately 50 or fewer units.
"By spotlighting these newer and less well-known franchises we are able to introduce more options for potential franchisees who may not have otherwise heard of these promising brands," said Eric Bell, General Manager at Franchise Gator. "We feel all of these are solid investments for 2016 as well as affordable opportunities for the average franchise buyer."
Franchise Gator will publish the rankings on its website for the Top 2 – 100 concepts on February 1st and its #1 pick on February 8th leading up to the International Franchise Association annual convention in San Antonio February 20th – 23rd.
View the Fastest Growing franchises for 2016 here: http://www.franchisegator.com/lists/fastest-growing/
View the Top Emerging franchises for 2016 here: http://www.franchisegator.com/lists/emerging/
About Franchise Gator
Franchise Gator, a unit of Landmark Interactive, a division of Dominion Enterprises, is the leading destination for those seeking to invest in a franchise opportunity. Since 2002 Franchise Gator and its network of sites have offered information on hundreds of business and franchise opportunities available in more than 100 industries. Franchise Gator provides franchisors with a quality, cost-effective mode of franchise marketing. For more information, please visit www.franchisegator.com.