Former "Groundhog" ATV Front-End Loader is Back on the Market
Industry: Equestrian Products
Wild Hare Manufacturing (formerly Groundhog) Reintroduces, Improves Only Fully Hydraulic ATV Implement System
Hawley, Minnesota (PRUnderground) June 10th, 2015
By popular demand, the original hydraulic front-end loader and implements for four-wheel all-terrain vehicles (ATVs) are back on the market with a new name—and a new Hawley, Minnesota, company standing behind them. Manufactured commercially as the Groundhog from 2001 to 2007, the hard-working line of compatible ATV attachments is now called the Wild Hare ATV Implement System, available online directly from the manufacturer at WildHareMfg.com.
The Wild Hare front-end loader and 3-point hitch—complete with a 44" bucket, a 34" pallet fork, a 48" cultivator, and a two-position 57" disc—make up the largest all-in-one ATV implement system, and the only line where every attachment is hydraulically operated from one control panel. Front and rear hydraulics make the Wild Hare system stronger and safer than other ATV power tools for digging, lifting, hauling, plowing, leveling—and many other jobs that used to require an expensive skid-steer or tractor. Maneuverable in tight spaces, the Wild Hare ATV attachments enable quad owners to do horse stable clearning, bale and log hauling, landscaping, grounds keeping, snow removal, and other medium-duty jobs without tearing up their property.
Earlier this year, Wild Hare Manufacturing bought out the Groundhog product line from Concord Equipment, which sold approximately 600 units across the U.S. before closing due to other business issues. Satisfied customers have continued the online "buzz" and Wild Hare Manufacturing pledges to serve owners who bought their implements from the previous manufacturer.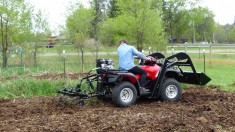 "Best wishes to Wild Hare and thanks for a great product!" John Ramp of Newport, Pennsylvania, wrote to Wild Hare Manufacturing in May. "I bought my Groundhog loader in early 2004 when I was moving into my new house. It's fantastic! I've used it to spread topsoil on my half-acre front yard, limestone for a 700-foot driveway, mulch, sand, firewood, snow—you name it. It paid for itself in the first six months."
Made of high-strength steel, the Wild Hare system is extremely robust and stable. Double-acting hydraulic cylinders lift 300 pounds up to a height of 60 inches, and dig with equal downward pressure—not just gravity like cheaper ATV buckets. A simple toggle switch operates both the loader and 3-point hitch, while suspension locks and a rear-mounted hydraulic power pack provide critical balance and stability.
The Wild Hare system fits on most ATV bodies and comes as an all-in-one package, or in special implement combinations for horse and resort owners, sportsmen/hunters, country-living enthusiasts, and landscapers.The Wild Hare loader is priced at $3,695 alone, and $5,739 with the three-point hydraulic hitch and all other implements, plus shipping. Orders take approximately two to four weeks to arrive.
For a video demonstration and more information, go to WildHareMfg.com or ATV Front Loader on Facebook.
About Wild Hare Manufacturing
The only all-hydraulic ATV attachment system commercially manufactured for all-terrain vehicles is back on the market. Once popular as the Groundhog from 2001 to 2007, the ATV front-end loader, pallet fork, 3-point hitch, cultivator, and disc are now improved and available as the Wild Hare Implement System, available through direct orders at wildharemfg.com.