Flipping Book by AnyFlip Brings Unexpected Benefits to Education
Industry: Technology
AnyFlip goes through the changing means of education and the rising impact of digitalization and then reveals the future of interactive flipping books in education.
Hong Kong, China (PRUnderground) January 19th, 2016
Technology has made its impact on every aspect of life including the education. In fact, it has changed the learning process significantly. Internet provides access to plenty of information, tablets and Smartphone has become the means to access the data. AnyFlip, the leading digital publishing service providers from Hong Kong, has put forward their expertise in understanding the requirements that digital learning demands from the educationalists and based on that, they have revealed the future of interactive flipping book in education.
The points that AnyFlip discussed are:
·         Flipping book is HTML5-based and compatible to popular tablet devices perfectly: Flipping books are created keeping in mind the need of making the content dynamic and compatible with the various mobile devices which are being used rapidly by students and users these days.
·         The interactivity feature is the key factor why flipping book is ideal for learning: It has always been said that what impacts the eye, does impact the mind too. The more interactive the content is, the better are the chances of learning it successfully. Flipping books create highly interactive content which makes it easier for the readers to learn and remember.
·         Interactive flipping book brings more convenience as it is accessible online easily: The flipping book can be published online easily and similarly can be shared over various social networking sites. This makes it easier for the readers to access these flipping books online.
·         Flipping book is a new trend of multimedia information format: Flipping book allows adding dynamic multimedia content to the publication which makes it a great source of providing information with the help of multimedia information format.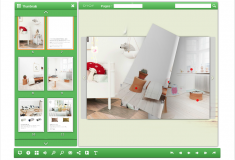 Jason Chen, CEO of AnyFlip, said that the education has gone through a revolutionary change as the technology has advanced. Flipping books are a great source of providing the content in the most interactive manner for the readers making it a great part of education in future.
For more information, go to http://anyflip.com/features/.
About AnyFlip