Flipbook Software Provider AnyFlip Reports Rapid Growth For The Upload Of E-Book
Industry: Online Marketing
The leading online flipbook software company AnyFlip reported significant increase in the number of e-books uploaded to their platform.
Hong Kong, China (PRUnderground) February 5th, 2016
After a highly successful launch of their flipbook software, the makers from AnyFlip have proudly reported that the number of e-books uploaded to their online publishing platform has increased dramatically in January. While there has been a reported significant increase in the number of uploaded e-books, the company has also reported the wide variety of users from various countries and industries who have successful used their software and shown their support for it.
Reporting about the extremely encouraging recent reports, the proud representatives from AnyFlip said that they are very pleased with the faith and support shown by the users worldwide, but they are not surprised. "When we started our platform, we were confident that users will find it extremely helpful and will be impressed by its work and results, so we are not surprised with the increase in number of uploaded e-books", they said.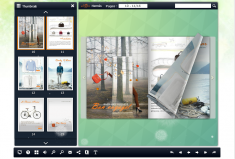 The digital publications on AnyFlip's highly acclaimed platform are coming from users belonging to different parts of world. The publications are mainly in English, Korean, Chinese and Japanese, few of the most varied languages. "Our user base is getting wider and the variety in the uploaded e-books shows that", company representatives said.
The recent reports over uploaded e-books also showed that users are not only from various regions, but from different industries too. Proud over the fact, company officials said, "It is very pleasing and encouraging for us to know that experts from various companies and different industries are finding our software and platform helpful as they are using it and giving positive feedbacks to it."
The makers have credited the success to the ease of use and amazing features that the platform provides to its users. Notably, the platform allows uploading and sharing interesting content with ease, online or offline. Its flawless compatibility with mobile devices makes it a top choice for publishers and readers all around. The recent reports are testimony for it.
Anyone interested in this news topic can go to http://anyflip.com/explore to explore the interactive flipbooks on AnyFlip platform.
About AnyFlip