Flipbook Software By PUB HTML5: Top Marketing Tool For Visual Content Creation For 2016
Industry: Computer Software/Services
Providing a highly effective mean for designers to create extremely interactive content with its flipbook software, PUB HTML5 continues to be a top marketing tool in 2016
Hong Kong, China (PRUnderground) January 5th, 2016
Effective marketing is one of the important pillars of a successful business. Visual content plays an extremely important role in increasing the effectiveness of any marketing campaign. The flipbook software from PUB HTML5 has been a leading choice for the marketers to create an extremely interactive visual content with the help of its advanced and powerful features. The software has been a key tool for marketers to create highly engaging visual content for their marketing campaigns so far. The flipbook software from PUB HTML5 aims at being the leading marketing tool for all business users once more in 2016.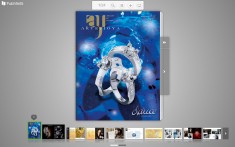 Discussing the importance of visual content in successful marketing and role, that PUB HTML5 flipbook software has played, Anna Lee, chief designer of PUB HTML5 said, "Visual marketing is the future of marketing. Publishing interactive content is still the leading content marketing trend for 2016." She added that PUB HTML5 flipbook software has been a leading marketing tool for the designers so far and it is all because of the powerful features of it that makes creating extremely engaging and interactive content very easy.
While the designers have always had the issues with the technical aspects of similar software, the PUB HTML5 flipbook software has removed these concerns with the help of its simplicity of control which removes need of custom coding or agency contracts completely. The software is loaded with built-in templates, themes and amazing animation effects which help the designers to come up with wonderful results. The software also allows adding multimedia content easily that adds to the interactivity of the visual content for making the marketing campaigns more effective.
"We have been a leader in being a marketing tool that helps creating wonderful visual content. Being the simplest of the tools to use, we have changed the way of creating interactive visual content positively and we are aiming at continuous improvements wherever possible to be the leading marketing tool in 2016 too", said Anna.
The flipbook software has been applauded warmly for its better-than-all effectiveness.
For more information, go to http://pubhtml5.com.
About PUB HTML5