First Dry Tortugas Resident Artist Anna Glynn Announced
Industry: Art
Australian multi-media artist Anna Glynn and partner Peter Dalmazzo (Australian environmental scientist, arts worker and curator), announced as first resident artists
Key West, FL (PRUnderground) August 18th, 2015
Dry Tortugas National Park and the National Park Arts Foundation (NPAF) (http://www.nationalparksartsfoundation.org) are pleased to announce the first resident artist-couple in their new partnership to establish a joint Artist in Residence (AIR) Program.
Anna Glynn is an Australian multimedia artist, originally from the South Coast, New South Wales, whose work includes painting, drawing, photography, sculpture, writing, music, sound, installation, film, animation and theatre. Glynn's art-practice has been inspired by her working and collaborating internationally exploring different cultures and new materials. She has undertaken a number of successful residencies both within Australia and internationally. Peter Dalmazzo is an Australian environmental scientist, arts worker and curator. Dalmazzo has more than 26 years experience working in the fields of biology, estuarine and coastal management, environmental planning and assessment, public place planning, community engagement and education.
This NPAF residency offers the absolute essence of an artist's retreat in the heart of nature.  And this is particularly inspiring to Anna Glynn, who loves to the sea and its endless mystery.  She added, "It would give us time to quietly observe and reflect, while stretched by life on the edge!  We look forward to being immersed in research and experimentation, while exploring new directions inspired by a place strange and unfamiliar."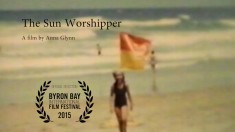 The Artists explain their winning proposal, an original fusion of Science and Art, in this way: "After documenting aspects of the environment, we will review, analyze and edit our collected resources to create works, including soundscapes, short films, animations, time-lapse video and moving image works. These will evolve in response to the environment, reflecting the character of Loggerhead Key as a place, both in its harshness and its beauty, its complex and elegant natural rhythms and patterns, over the course of thirty days." To that end, they will be doing interactive segments, including timelapse videography of the Key's weather and wildlife, using High Definition Time Lapse cameras donated by Brinno USA.
Selected by NPAF's renowned curators and advisors, through applications that were received from artists world-wide, in a painstaking process. The artists will be provided lodging at Loggerhead Key, surrounded by profound history and a lighthouse.
The Dry Tortugas National Park Artist-in Residence program will be another interactive public feature to highlight and honor the upcoming Centennial of the National Parks in 2016. The National Parks Foundation is always looking for active participation and input from lovers and sponsors of the arts. This work is an important contributing part of Florida's unique culture and natural landscapes. It doesn't happen without people! So if you want to volunteer, donate, or share your perspective use the contact information provided below.
Dry Tortugas National Park is located almost 70 miles (113 km) west of Key West.  The 100-square mile park is mostly open water with seven small islands.  Accessible only by boat or seaplane, the park is known the world over as the home of magnificent Fort Jefferson, picturesque blue waters, superlative coral reefs and marine life, and the vast assortment of bird life that frequent the area.
About National Parks Arts Foundation
The National Parks Arts Foundation is based in Santa Fe, New Mexico, and is the only Nationwide non-profit dedicated to Artist-in-Residence Programs at National Parks, Monuments and World Heritage Sites.
We are proud to be working closely with the National Park Service to set up programs celebrating the NPS centennial in 2016.