Find That Special Sexy Valentines Day Gift For That Special Someone At Sensual Steals
Industry: Retail, Valentines Day Gift
SensualSteals.com – the original adult deal a day site – presents its Countdown to Valentine's Day Super Sale! New items between 40% to 80% off!
United States (PRUnderground) February 1st, 2012
Our Countdown to Valentine's Day Super Sale means that from now until February 14th inclusive, you can enter our promo code "SensualSavings14" at www.sensualsteals.com for savings up to 80 percent.
Sensual Steals' business model is simple yet effective: each day a new adult-themed product is featured,available for sale for a 24-hour period, or until inventory runs out. The odds of finding it on other sites at the same price? Slim to none! Something we're equally proud of: the site is stylish, easy to navigate and credit card-safe.
Our Valentines Gifts Include: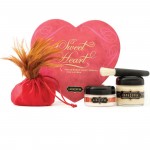 Sweet Heart Box Strawberry – There's nothing more romantic than a gift from the heart. Open yourself to new possibilities of love when you show your true romantic colors! Enjoy these sweet delights and indulge in the sinfully rich taste of strawberries as you lick them off your lover's body one sweet morsel at a time. Set comes with rich White Chocolate Body Paint, Strawberry Crème Body Soufflé, and Strawberry Dreams Honey Dust with a feather duster.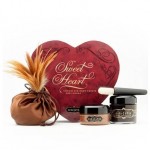 Sweet Heart Box Chocolate – Explore your love with these decadently flavored body treats. Rich Chocolate Body Paint, Chocolate Crème Brûlée Body Soufflé – and Chocolate Caress Honey Dust with a feather duster. Whatever your pleasure, your lover will be begging for more.
If you're adventurous in the bedroom or a beginner looking to spice up your love life, we also have several must-have items to choose from in our Past Steals section. Trust us when we say you won't be disappointed.
About Sensual Steals:
Sensual Steals is the recipient of AVN's 'O' Award, and listed in their 'Top 50 Retailers of 2011." Our chic, classy web design was recently nominated at the 2012
XBIZ Awards.
Sensual Steals is the first and only deal-a-day site focusing on sensual items. We offer a huge selection of sexy clothing, shoes, club wear, lingerie, bathing suits, etc. In
addition to flirty fashions, we also carry couples toys, erotic merchandise, and all sorts of other goodies for your goodies!
About