Explore Your Senses To Exhibit at Kidz in the Middle
Industry: Parenting & Mothers
Explore Your Senses, the UK's leading online sensory toy store to exhibit at Kidz in the Middle, Coventry in March 2015.
United Kingdom (PRUnderground) February 10th, 2015
Explore Your Senses has over 20 years of experience in the multi-sensory, special needs toys industry.  They specialise in all types of sensory toys and resources from fidgets to calmers, light-ups, therapy tangles and much more, focused on inspiring exploration and imagination. They source high quality products at competitive prices, aiming to provide the most innovative resources for exceptional value for money. Their original discovery tubs, fun kits and exploration bags bring together products which have all been carefully selected offering easily accessible solutions to suit the specific needs of those in your care. Perfect for any sensory room!
Explore Your Senses exhibit at the majority of relevant exhibitions to showcase and sell their special needs toys, and especially ADHD and Autism toys. The company specialises in sensory toys and offer unrivalled customer service, and a huge hand-selected range of toys for autism, ADHD, Dyspraxia and special needs in general.
Explore Your Senses are pleased to announce that they will be exhibiting at "Kidz in the Middle" Exhibition. This will be held on Thursday 19th March 2015, at Jaguar Exhibition Hall in Coventry.
KIDZ is dedicated to children and young adults with disabilities and special needs, their families, carers and professionals who work with them. There will be over 120 exhibitors offering support, advice and information on funding, mobility, seating, beds, communication, access, education, toys, transport, style, sensory, sports and leisure.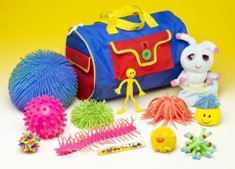 There will also be free seminars for parents, carers and professionals on a range of subjects including moving and handling, sleep issues,  parental experiences and even legal advice.   Entry is free on a first come, first served basis. A number of the speakers are parents who have raised a child with disabilities. The speakers will also be on hand throughout the day to answer any questions parents or carers may have. Healthcare professionals will receive certificates of attendance – available to collect on the day – which can attribute to their CPD portfolio.
There will be plenty of bargains available on the day. Explore Your Senses will be exhibiting their popular stand selling a range of exciting sensory toys, including new recent additions to the range.
One new product in the sensory toy treasure trove portfolio are the brand new ear defenders; available in red, blue and black.
Explore Your Senses now have their new 2015 sensory toy catalogue available.  Request a free copy by emailing info@exploreyoursenses.co.uk
About Explore Your Senses
Explore Your Senses are a leading UK online store supplying a huge range of sensory toys