ExpertQuote Gains Top Ranking for Benefits Firms in Silicon Valley Business Journal Book of Lists
Industry: Insurance
Iconic publication, Silicon Valley Business Journal names ExpertQuote as top player in employee benefits consultation.
Silicon Valley (PRUnderground) June 16th, 2015
Corporate benefits firm ExpertQuote Insurance Services Inc., has earned a top spot for its category in the prestigious Silicon Valley Business Journal Book of Lists. The listing keeps ExpertQuote firmly positioned as a leader in group health insurance offering a robust menu of services. ExpertQuote's roster of clients includes the San Jose Sharks as well as companies ranging from high-tech startups to large organizations such as museums, auto-dealerships, municipal parks and banks. ExpertQuote has earned the prestigious "Advantage Status" with Anthem BlueCross and the "Business Leadership Roundtable" with Kaiser Permanente for excellence in service.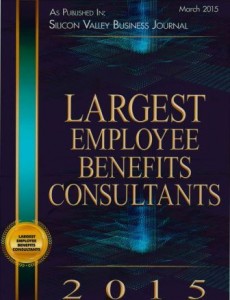 Harpreet Chadha, CEO of ExpertQuote, said, "We are honored and proud to be recognized as the top rated benefits firm. We were able to achieve this position thanks to our outstanding base of loyal clients that have given us a chance to work with them. It is also a tribute to the exceptional quality and work ethic of the ExpertQuote team in such a heavily competitive market."
ExpertQuote is at the forefront of the ever-changing benefits consultation landscape specializing in all aspects of health insurance including Human Resources mandates and Health Care Reform updates. As a boutique bay area benefits team, ExpertQuote has gained the trust of both large and small well-recognized companies across various industries. ExpertQuote's proven strategies save its clients anywhere from $100,000 to more than a million dollars a year on benefits expenditures while preserving or improving their plan benefits.
About ExpertQuote
ExpertQuote Insurance Services Inc. (EQ) of Silicon Valley California is a corporate benefits firm specializing in all aspects of group health insurance from high-tech startups to large firms including museums, auto-dealerships, banks, and public firms. EQ has the distinct privilege of representing the national hockey team, the San Jose Sharks.
In face of the ever increasing health insurance premiums, EQ has a proven strategy that is saving it's clients from $100,000 to $1M+ a year on benefits expenditures. Given the current annual health insurance rate increases, premiums will double in seven years! The EQ solution is helping clients preserve and provide benefits packages in a competitive landscape for quality talent.
EQ has an extensive offering providing a full concierge model and complimentary benefit-administration platform. EQ will become your complete outsourced benefits team, handling open enrollments, employee questions, and carrier onboarding. Furthermore, EQ provides a complimentary PPACA & HR Audit through our ERISA Attorney & HR Specialist. For more information please visit www.ExpertQuote.com and www.EQSavingsSolution.com