Essential Install Magazine Features VIZBOX Projector Enclosures
Industry: Technology
VIZBOX Enclosures Limited are featured in an editorial in Essential Install Magazine March 2015
United Kingdom (PRUnderground) April 8th, 2015
VIZBOX, the weatherproof projector housing manufacturers are featuired in March 2015 Essential Install magazine, in an interesting projector supplement.
Essential Install is the only dedicated residential custom install magazine serving the UK market, andprovides a unique opportunity for manufacturers, distributors and service providers to reach the custom install and high-class AV retail community.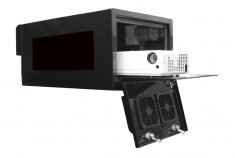 The printed version of Essential Install is sent to decision makers in the UK using a database specially created to serve the custom install sector. The core readership of the magazine is installers of domestic and light commercial automation, entertainment and environmental control systems. However, the circulation also includes specifiers, architects, interior designers, distributors, retailers and manufacturers. Circulation is managed daily to ensure your messages reach the right audience. Essential Install is also available in an electronic version.  A fully interactive App for Apple and Andriod is also available.
Editorial integrity is central to the success of Essential Install magazine. Each month only the most interesting news, views, products and comments are chosen, presenting a wide ranging and genuine picture of the CI sector on the ground, vital for keeping readers fully informed. This month VIZBOX Enclosures Limited was part of an exciting projector editorial supplement.
Yorkshire-based VIZBOX Enclosures Limited is an innovative company who manufacture weatherproof projector enclosures. This allows projectors to be fitted in any environment, including where the projector would be subjected to all types of weather and/or pollutants.
Editor, Daniel Sait included the editorial piece on VIZBOX projector housings as part of the March 2015 edition projector supplement, namely "Picture This" and it is an interesting read, sighting VIZBOX as "a new offering in projector protection."
Indeed the unit is secure as well as equipped to protect the projector from the elements. The unit has dual dust-capped high-security locks.
Meanwhile the guys at VIZBOX tell me that they are busy with a sizeable bespoke order for a very exciting London-based project; however the details are under wraps for now. The company export globally, as well as catering for the UK.
Click to find out more about VIZBOX Enclosures Limited.
About VIZBOX Enclosures Limited
The VIZBOX Outdoor Projector Enclosure is the only enclosure in it's class to be manufactured in the UK. It is weatherproof, vandal resistant, and featured a secure locking system. Affordable pricing makes it perfect for outdoor events and venues.