Endohumans to be the first iphone app to combine a fitness tracker with an online game
Industry: Fitness
M-Idea Solutions announces the smartphone app that is surely to change the fitness and gaming industry forever.
Nicosia, Cyprus (PRUnderground) March 28th, 2015
Endohumans has been announced to be the first ever smartphone fitness tracking app that will also be an interactive online game.
According to available information from the Company's website and Indiegogo page, Endohumans will have all the normal fitness tracking features like GPS tracking, distance, calories etc. but this one will appear to have been intercepted/hacked by the Endohuman Defence Network, a secret ancient society that has resurfaced due to an unkown threat to mankind. The Network communicates to users through their earphones while they are running!
Users will need to actually work out and log their runs and exercise for the purpose of generating through their activity, an ancient energy force called enduras. These enduras are used in the game to awaken an artificial intelligence (AI) which has been trapped in a computer for many years. The AI is the heart of the Network but "she" is "dying" and needs to receive enduras to continue to operate!.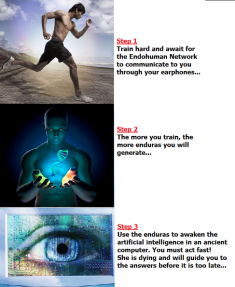 In return for enduras she will guide the users of the app on an online quest and they will need to solve puzzles to uncover the largest secret known to man!
M-Idea Solutions Ltd, a small European start-up has already announced that Endohumans is in development and their Marketting Manager, Andreas Pavlou told us that "Everyone here is very excited about this project since it will be the first fitness app which will also be an interactive online game. The storyline and plot are so believable that users are surely to become immersed in an action packed adventure game but with the difference that they will need to work out and exercise in order to play the game! It will most certainly change the fitness and gaming industry forever".
The first version of the app is expected to be available to a selected number of beta-testers in late April 2015 with final release within the year.
M-Idea is currently receiving applications for beta testers while it also has a revenue sharing scheme in place for the initial supporters of the app which can contribute and sign up as beta testers in their indiegogo campaign page http://igg.me/at/endohumansapp .
About M-Idea Solutions Ltd
Combining fitness with adventure